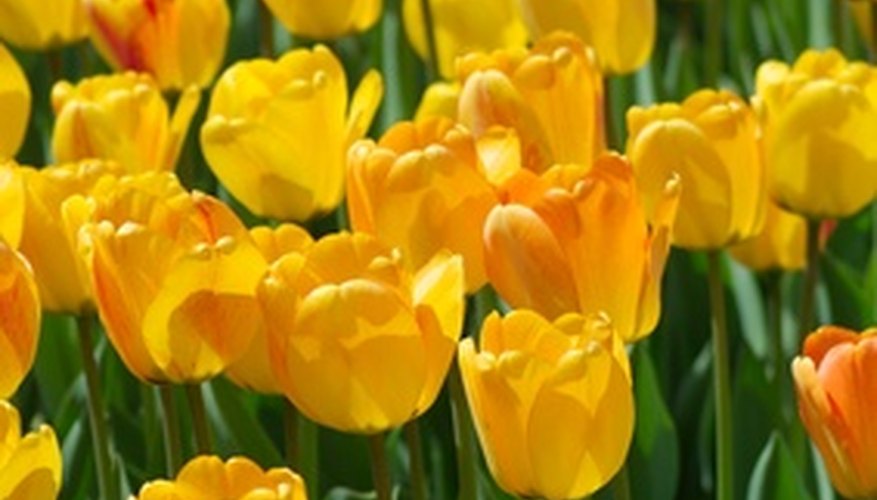 Spring bulbs come in many different shapes and sizes, and so do their flowers. There are lots of different spring bulbs including alliums, aconite, grape hyacinth and squill. Spring bulbs bloom from the very first hint of spring while snow may still be on the ground to late spring. Flowers range from tiny snowdrops to huge irises, in a rainbow of color. Some of the more popular bulbs are daffodils, tulips, hyacinth and crocus.
See how the bulb is shaped. Tulip bulbs have a smooth outer coating and are oval and about the size of a chicken egg. If roots aren't visible it can be a challenge to figure which end is up. Daffodil bulbs are flattened on the root end and have a definite narrower stem end and bulge where the root plate is. Crocus, technically aren't a bulb but many gardeners include them in spring bulbs. They are small, only about the size of a quarter and are doughnut shaped. Hyacinth bulbs look like a cross between a tulip and daffodil bulb. They are short and squatty with a definite root end and stem end. They are about the same size as a daffodil bulb.
Cut the bulb open. True bulbs have many overlapping layers attached to a basal plate. Think of an onion, which is a bulb. The plant grows in the center of the layers attached to the basal plate, using the outer layers for energy. After the bulb blooms the leaves continue to grow replenishing the layers of the bulb with energy so it will grow the next season.
Plant the bulb and see what shape the leaves are. Daffodils have long strap-like leaves up to 15 inches high. Tulips have broader leaves that curl slightly inward and grow to 12 inches high. Crocus have narrow leaves growing up to 5 inches high. Hyacinths have leaves that are broader than daffodils but not as wide as tulips.
Look at the flowers. Daffodils have a trumpet-shaped round petal surrounded by six flat petals. The flat petals are at a 90-degree angle to the trumpet-shaped petal. The size ranges from dwarf daffodils with flowers no bigger than an inch across to giants 4 inches across. Colors include bright yellow, orange, cream and a light pink. Tulips are cup-shaped with three inner petals overlapped by three outer petals. Tulips range from 2 inches to 4-and-1/2 inches. They come in every color and sometimes more than one color on the same flower. Crocuses are shaped like tulips, but are only about an inch long. Colors include white, yellow and purple.
Smell the flowers. Crocus has very little scent. Daffodils have a subtle sweet scent. Tulips have a faint fresh scent. Hyacinths have a strong floral scent.
Tip
If you've found a bag of unidentified spring bulbs, plant in the fall and see what pops up in the spring.
Warning
Daffodils are poisonous. If you've cut the bulb, throw it away and wash your hands afterward.