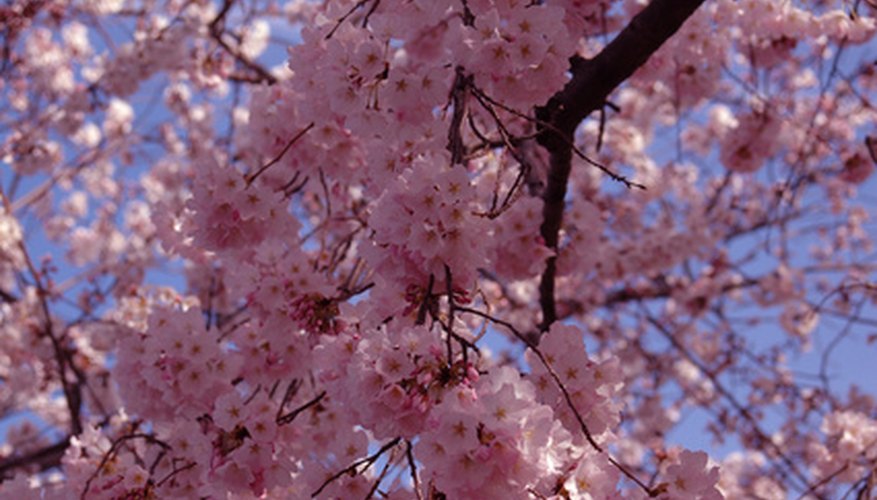 There are more than 10 species of ornamental cherry trees (Prunus spp.) commonly found in the United States, according to North Carolina State University, and many of those species have one or more cultivars. These flowering trees, which are native to Japan, are popular with home gardeners and landscapers for their beautiful spring color. Ornamental cherry trees have flowers that range from white and pale pink to a deep, dark rose purple color, depending on the variety.
"Rosy Cloud"
"Rosy Cloud" is a variety of Prunus subhirtella cherry tree. This tree is a prolific bloomer, with a multitude of large, dark pink or purplish flowers in the spring. The flowers are double-petaled, which means they have more than five petals. The bark of the tree is a distinctive, reddish-brown color. The green leaves of "Rosy Cloud" turn yellow or brown in the fall. This tree averages 30 feet in height, like most P. subhirtella species. It grows best in USDA Hardiness Zones 4 to 8, according to North Carolina State University.
"Kwanzan"
"Kwanzan" is a type of Prunus serrulata cherry tree. It has a wide crown when mature and purple double flowers. In the fall, the foliage turns yellow or copper. This type of cherry can tolerate warmer temperatures than many other species and cultivars. It can grow in USDA zones 5 to 9, according to the Arbor Day Foundation. The tree has a pleasing, vase shape and the canopy becomes more rounded with age. That, plus the small size of the tree (around 20 feet) make it an excellent specimen tree in a home landscape.
"Sargent"
"Sargent" is a species of P. sargentii that can vary in color within the species and not necessarily by cultivar. Still, most types of "Sargent" have deep pink or purple flowers. Avoid the cultivar "Sir Edward Mueller", which has light pink flowers. Look at the young trees in bloom at the nursery to determine which one has flowers of the shade of purple you prefer. The "Sargent" is one of the hardiest types of cherry trees, according to North Carolina State University. These trees will thrive in different types of soil and can even be used as street trees. They are also cold-hardy. "Sargent" cherry trees grow best in USDA zones 4 to 7. They reach a maximum height of 20 to 40 feet.