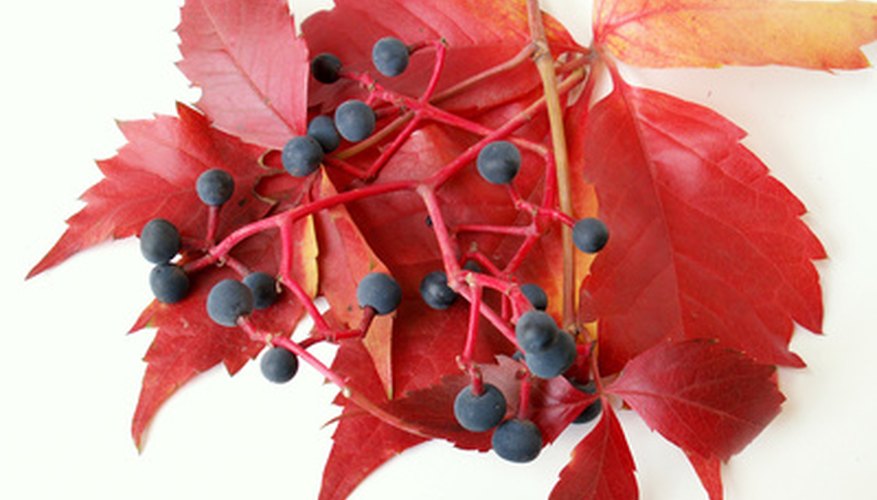 Shade areas with thoughtful landscaping become peaceful havens of quiet beauty. Selected varieties of climbing vines, shrubs, flowers and understory trees tolerate shady growing conditions. Climbing plants have weak stems and manage to grow tall by attaching themselves to solid structures like trees, fences and trellises. Shade-tolerant climbing plants offer excellent fillers for open spaces and covers for unattractive features like tree stumps.
Akebia
Akebia (Akebia quinata), also called chocolate vine, grows in USDA Plant Hardiness Zones 4 to 10. A vigorous, semi-evergreen, it can reach heights of 20 to 40 feet. In early spring, akebia has cup-shaped purple flowers that bloom for two to three weeks. Leaves turn purplish in fall and winter and remain on the plant in Zones 7 and 8, but fall off in colder climates. Although the akebia prefers shade, it tolerates sun and desires moist, but not wet, soil conditions. Akebia can become invasive and requires regular pruning. Prune akebia in the early spring or late fall in the far north. Virtually immune to pests and disease, propagate akebia through cuttings.
Wintercreeper Euonymus
A flexible, shade-tolerant plant, wintercreeper euonymous (Euonymus fortunei) functions as a ground cover, a small shrub or a climber. With striking green and gold foliage, it grows well in USDA Zones 5 to 10. The plant provides small white blooms in spring and trains to trellises and arbors. Extreme cold and wind limit the plant's climbing. In mild climates, such as Zones 7 to 9, wintercreeper can reach 70 feet. Grow in rich, fertile soil, maintaining moist, but not soggy, conditions. Occasional mildew and fungal problems occur and respond well to appropriate treatment.
Parthenocissus
Parthenocissus (Parthenocissus quinquefolia), also called Virginia creeper or Boston ivy, grows in USDA Zones 2 to 10. The compound leaves have five leaflets that show reddish in spring, green in summer, and bright red in the fall. A fast grower, parthenocissus trains to arbors, trellises, fences or wall coverings. Mildew bothers the plants in summer, but does little real damage. Control insects, such as beetles, with an insecticidal soap. Plant in evenly moist, fertile soil, and prune as needed to control growth. Some cultivars offer blue-black berries in the fall that birds enjoy.