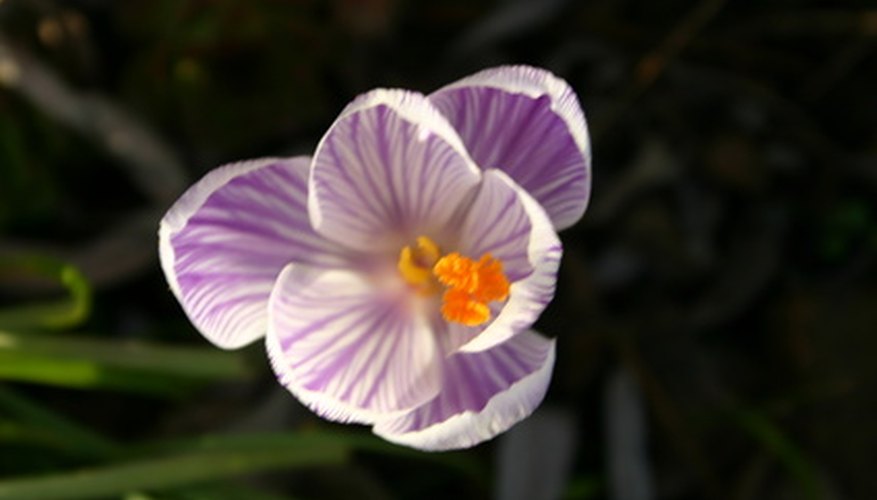 Gardening with potted plants is a simple way to liven up a bare indoor area or an empty patio or poolside. There are plenty of easy-to-grow plants that will thrive in a pot, producing colorful flowers that can be enjoyed indoors or outdoors with a minimal amount of attention.
Petunias
A member of the nightshade family, the petunia (Petunia x hybrida) is a low-growing garden hybrid notable for its wide range of colors, from solid brights to mixed stripes. The herbaceous plant can be grown as a perennial in USDA zones 9 to 10, though it is grown as a frost-tender annual in just about every climate zone. Petunias do best in bright, full sunlight in well-drained soil. The plant is largely pest-free and requires very little care. Petunias can be bunched together in a long window box or placed separately in pots on the patio or porch.
Crocus
The crocus genus (Crocus spp.) holds more than 80 species of flowering plants, popular throughout the world for their beautiful and delicate blooms. A member of the lily family, crocus flowers boast grass-like foliage and cup-shaped flowers in colors ranging from bright yellow to lavender or purple. Originally native to the Mediterranean, temperate Asia, the Middle East and parts of Africa, crocus flowers do best in full or partial sunlight in USDA zones 3 to 8. The plant is well suited to life in a container, so long as the soil drains well. The plant requires only the occasional watering, and otherwise can be left alone.
Rat Tail Cactus
A native of Mexico, rat tail cactus (Aporocactus flagelliformis) is a flowering species of cactus best suited to growth indoors. The plant has long succulent branches covered in a dense layer of spines. Rat tail cactus is notable for its large, fluffy pink flowers. Rat tail cactus is easy to cultivate indoors in a hanging pot or basket so long as it receives bright, indirect sunlight coming from the south or west. Plant the cactus in a cactus potting mix, or be sure to use a rocky, wel-drained soil. Water deeply, allowing the soil to become just a little damp to the touch in between waterings. Fertilize once in the spring to promote healthy flowering.
References