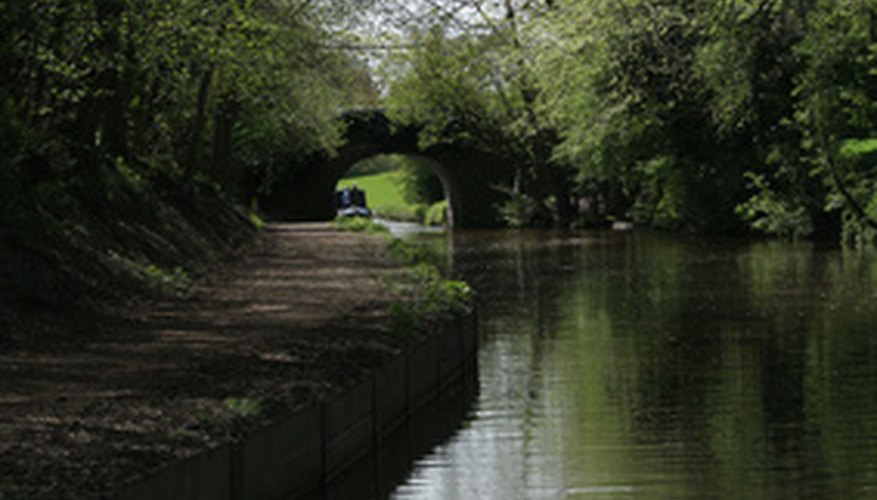 Tall plants have much to offer a garden. Use them to add drama to a border, or to provide a lush backdrop for flower beds. Gardeners will have to dig a little deeper to find tall plants that love shade, rather than sun.
Giant Taro
Giant taro, a member of the arum family (Alocasia macrorrhiza), is an herbaceous perennial native to the lush tropical jungles of Sri Lanka, India and Malaysia. Its enormous deep green "elephant ear" leaves grow to be up to 6 feet long. Giant taro is an imposing foliage plant that can reach up to 15 feet tall. It grows in almost complete shade in USDA hardiness zones 9 to 11. The tropical plant does best in a fertile, humus rich, and well-draining soil. Water the giant taro often enough to keep the soil evenly moist. Add fertilizer during the growing season to keep the foliage looking healthy.
Leatherleaf Mahonia
Leatherleaf mahonia (Mahonia bealei) is a shrub notable for its dense layers of coarse blue-green foliage and for its richly scented yellow or creamy white blooms. The shrub reaches an average height of between 8 and 10 feet tall. Leatherleaf mahonia will grow in USDA zones 6B to 9A, in either full sun or full shade. The plant isn't at all picky about soil pH and will grow in acidic, alkaline or neutral soil. Water leatherleaf mahonia frequently during the growing season to keep the soil moist. Pest resistant and easy to care for, leatherleaf mahonia is a common border or specimen plant that elegantly fills a shady area in the garden.
Cardamom
A member of the ginger family, cardamon (Elettaria cardamomum) is a large evergreen perennial native to India and notable for its edible seeds, which are a popular seasoning throughout the world. Cardamom is also cultivated as a foliage plant for its attractive lance-shaped leaves, which are a rich dark green, and for its clusters of small white blooms. The plant can reach heights of up to 12 feet in USDA zones 10 to 12. The plant won't do as well in cooler climates, where fruiting and flowering may be hindered. Cardamom thrives in shade, but grows best in filtered shade or dappled sunlight. The plant isn't picky about soil, although it does require constant moisture. Wet, water-logged soil is not a problem for this plant.