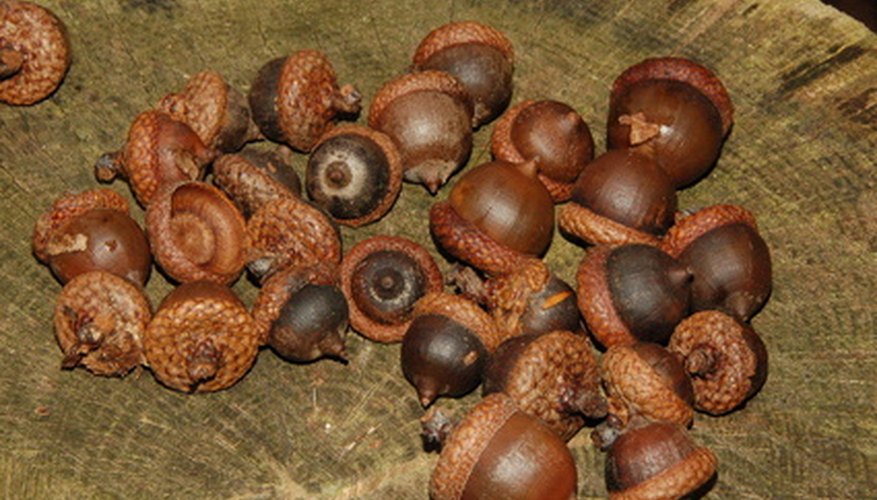 North America is home to many oak trees. Oaks are easily distinguished by their lobed leaves and their unique seeds, the acorns. Acorns are hard, round seeds that can range, depending on the tree, climate and location, from 3/4 inch in diameter to over 1 inch in diameter. Acorns are rounded with a sharp tip. They have a distinctive textured cap that remains attached to the nut when they drop from the tree. Oaks are hardy trees, with most parts of the central and eastern United States having at least one native variety.
White Oak
White oak leaves are 4 to 7 inches long with 7 to 10 rounded lobes. White oaks can reach 100 feet tall in forests. Their trunks can be several feet in diameter. The bark of the white oak is ashen-gray or white. On younger trees, the bark is scaly or platy, but older trees can have smooth areas of bark. White oak is most common at the east of the Mississippi river. It can survive winter temperatures as cold as minus 50 degrees Fahrenheit. They are very tolerant of soil type, but do best in soil that drains well.
Scarlet Oak
Scarlett oak is found in Maine, New York, Indiana, Ohio, Michigan, Missouri, Illinois, and Mississippi. It also grows in parts of Alabama, Georgia and Virginia. It grows in areas with winter temperatures as low as minus 28 F to areas with summer temperatures as high as 105 F. They grow to around 80 feet and have 3- to 7-inch-long leaves. The bark is grayish-brown with smooth streaks.
Northern Red Oak
The northern red oak has 5- to 8-inch leaves, with between seven and 11 sharp lobes. Mature trees have furrowed bark. The bark on younger trees can be smooth. Northern red oak grows to 90 feet tall. Northern red oak grows as far north as Minnesota and Nova Scotia and as far south as Alabama, Georgia and Mississippi. It grows well in most soils that drain well and can withstand winter temperatures as low as minus 50 F.
Black Oak
Black oak grows in many parts of the United States, east of the Mississippi River. It grows as far north as southern Maine and as far south as parts of Northern Florida. The leaves of the black oak tree grow to between 4 and 10 inches long. Most have five bristle tipped lobes, but some trees can have leaves with seven lobes. Bark on young trees is smooth but grows to become deeply furrowed and black as the tree ages.
Bur Oak
The bur oak grows in the far north, including Quebec, Ontario, and Manitoba. It grows as far west as the western borders of North and South Dakota and as far east as New Brunswick. Bur oak is one of the most drought resistant of North American oaks. It grows well in most well-draining soils. The leaves of the bur oak are 6 to 12 inches long, with many lobes. The bur oak can grow to 100 feet tall. The bark of this tree is gray to brown, with noticeable ridges on older trees.