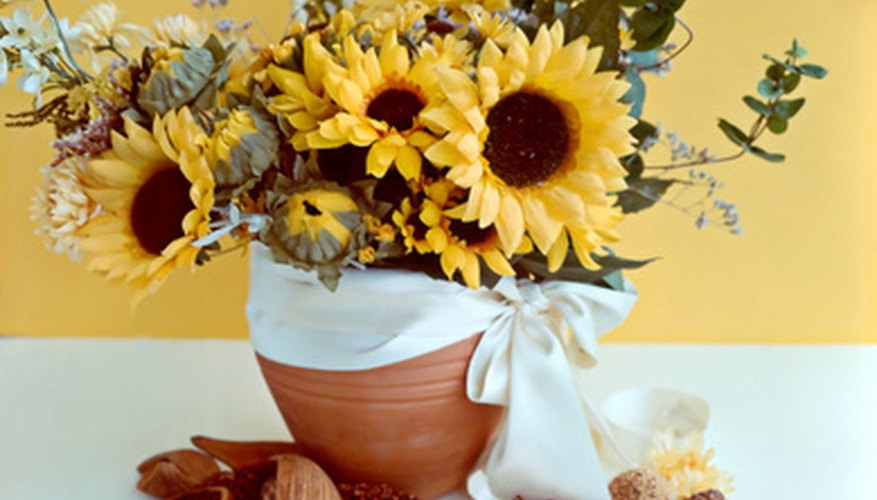 Whether your flower pots are in the house, on the deck or in the garden, they can be altered into one-of-a-kind decorative accents. Place the flower pot into another more decorative container for the easiest and quickest change. Or, with a glue gun, paint, a handful of supplies and imagination, transform a flower pot into a unique creation.
Painting
The most versatile method of decorating flower pots is painting. According to the website Kaboose, some pots may need an undercoat of white paint before you apply the final colors. Consider using large graphic patterns on pots, such as wide stripes or bands, large polka dots or large leaf prints; smaller designs could draw the eye away from the plant itself. Painting or stenciling only on the bottom or top of the pot is also an effective design strategy, as is sponge painting for a mottled effect.
Gluing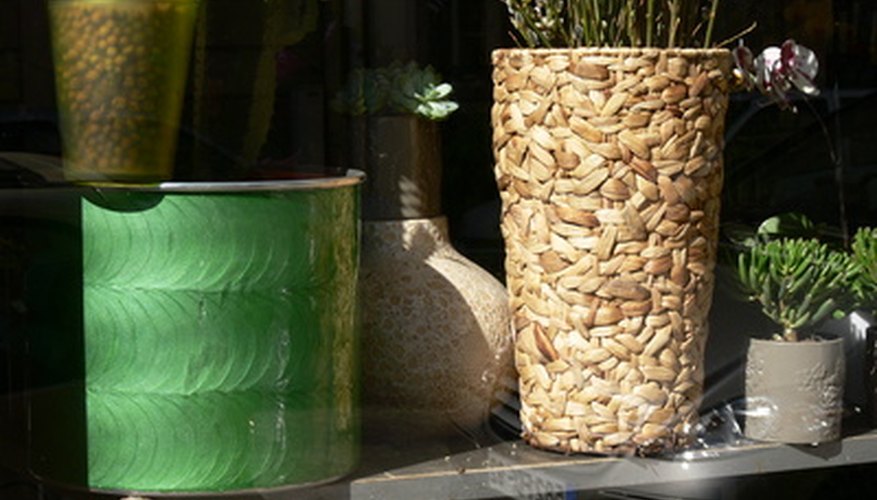 A hot glue gun works for most of the objects you would glue onto a flower pot, although super glue is needed for heavy objects. For a rustic flower pot, glue upright twigs all around the pot, or, if you want a more finished, natural look, cut bamboo stalks and sand the tops before gluing. Mosaics of broken china plates bought at a thrift store or pieces of sea-glass can be multicolored or single-hued. Other design elements to glue include artificial flowers or leaves and small objects that coordinate with your decor or are seasonal, such as toy boats or Christmas angels. Craft stores and sewing stores are possible sources for small objects, decorative foam, cloth ornaments, decals, buttons or sequins.
Wrapping
Wrapping can be as simple as a pastel gingham bow tied around the pot for a springtime or Easter effect or as elaborate as wrapping and gluing beaded red and green garlands at Christmas. Wrap yarn, ribbon or raffia around the flower pots and secure with a dab of glue at both ends. Large leaves can also be wrapped around a flower pot and tied with raffia or with a thin green stalk from another plant. This decoration will be temporary, but is especially striking for parties or weddings. Another temporary wrapping technique uses a large piece of cloth gathered up around the pot and its base and tied with a ribbon.