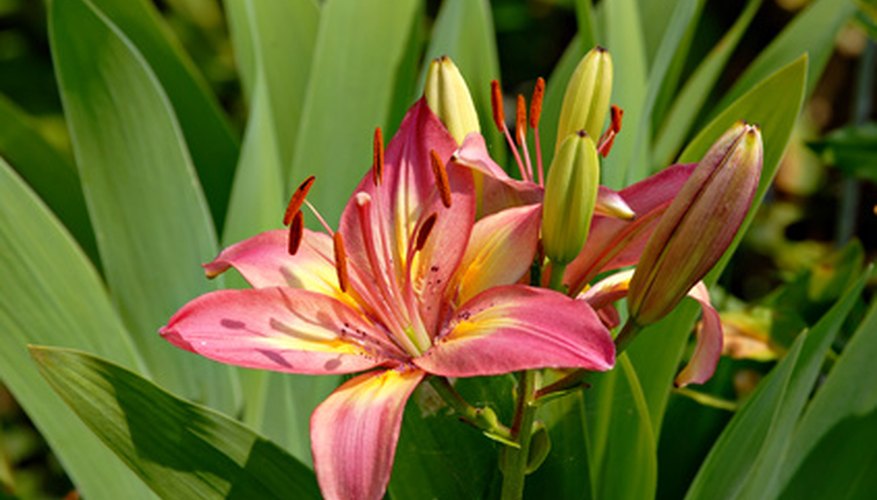 Day lilies grow from a tuberous root system similar to a bulb. The tuber stores all the nutrients necessary for the plant to grow each year, then it replenishes the nutrients for the following year after the flowering period is over. Day lilies produce a profusion of blooms over the summer, then they go dormant in late fall. While day lilies do not require winter storage, you may need to store them for a short period before you can plant new bulbs or you may need to store bulbs over winter if you are digging and moving or dividing the lily bed.
Break up the soil around the day lilies with a handheld spading fork. Work around the bulbs, taking care not to cut or damage them. Slide a spade under the bulbs once the soil is loosened and lift them out of the bed.
Cut the remaining foliage off the plants with shears then brush the excess soil off the lily roots and inspect them for damage or soft spots that indicate rot. Cut off the damaged or rotten areas and dispose of them.
Place peat moss in a bucket then sprinkle water on it until it is moist. Squeeze out the excess water from the peat until it is as damp as a wrung-out sponge. Place the moistened peat moss into a shallow box.
Bury the day lily roots in the peat moss. Space the roots so they are not touching one another during storage.
Store the box of roots in a 35 to 45 degree F room until you are ready to replant. Sprinkle water on the peat moss if it begins to dry out.