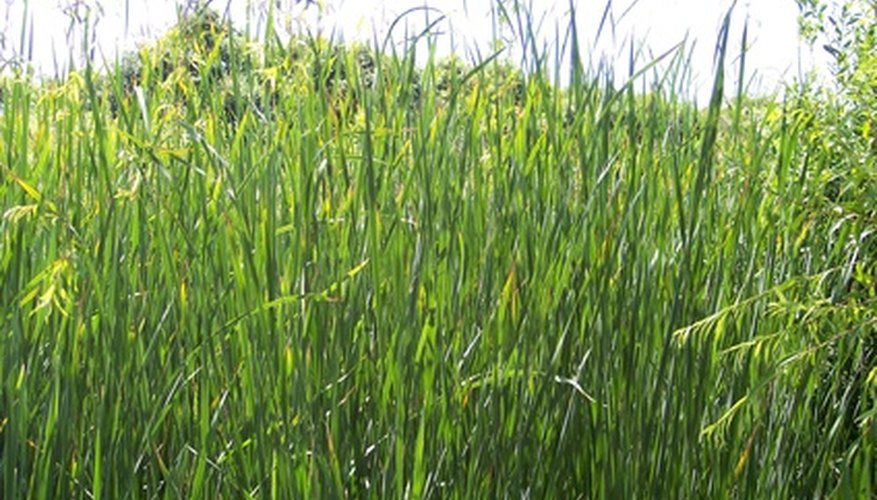 Gardeners desiring a tough turf grass, able to tolerate a variety of soils and growing conditions, often plant tall fescue grass in lawn areas. Fescue grows well in regions where the summers become hot and humid, often retreating into dormancy during dry periods but greening up again once rain resumes. By the end of a growing season, a fescue lawn may show signs of fatigue and thinning. When this occurs, overseed fescue turf to bring it back to life again.
Mow the grass to a 1-inch height with the lawn mower.
Rake the lawn to extricate all loose grass and other lawn debris. Collect the grass clippings and debris in the lawn bag to dispose of them.
Fill the seed broadcaster with the starter lawn fertilizer, consulting the fertilizer package for the recommended amount of fertilizer for your lawn area. Set the broadcaster to the proper application setting and apply the lawn fertilizer evenly over the lawn.
Fill the seed broadcaster with fescue grass seeds, applying between 2 and 3 lbs. of seed for every 1,000 square feet of lawn area. Broadcast the seeds over the entire lawn with the seed broadcaster.
Water the lawn evenly with the garden hose or with the sprinkler to saturate the soil completely. Keep the lawn evenly moist by watering it in the morning and evening until the new fescue seeds germinate and develop strong root systems. This may take up to three weeks.