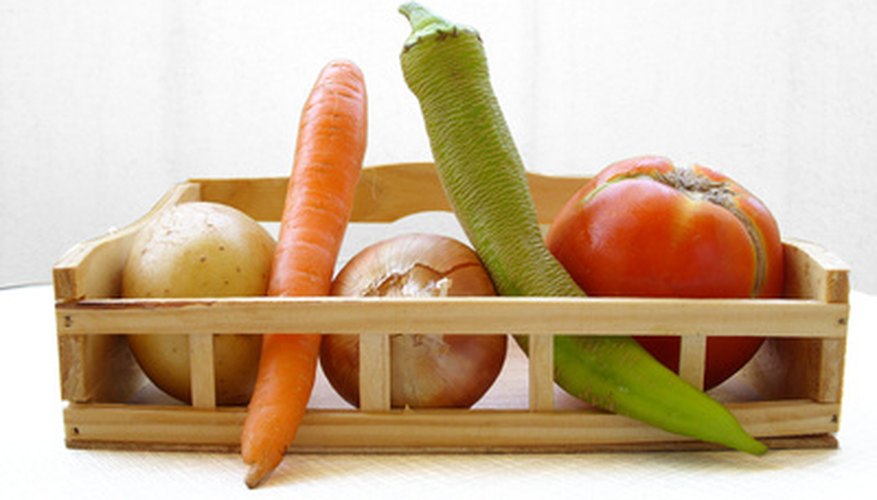 Enjoy the taste of fresh, homegrown vegetables every day of the year. Few gardeners have access to a heated greenhouse, the best solution for year-round gardening. Grow vegetables inside your home as the next best thing. Give your plants the best start and continued care for optimal results.
Purchase healthy vegetable transplants or seeds from a trusted garden center or nursery. Stay away from transplants with yellow or wilted leaves.
Pour gravel into the bottom of a 5-gallon pot, filling to 1 inch. Pour a premium potting soil, available from garden centers, into the pot until half full.
Set the transplant on top of the soil in the middle of the pot. Pour potting soil around the roots and base of the plant up to the top of the pot. Pack the soil firmly around the plant base. If using seeds, fill the pot full with potting soil. Make a small indention, about 1 inch deep, with your finger and place the seed in it. Cover the seed hole with soil.
Set a cage in the soil around the plants when growing vining varieties, such as tomatoes. Push the cage down into the soil until secure.
Water the plants daily or when the soil appears dry. Test soil dryness by placing your finger through the top of the soil; if you can feel moisture, skip watering. Prepare a fertilizer solution to use for watering. The Texas A&M Extension recommends using a 10-20-10, 12-24-12 or 8-16-8 formula for vegetables. Purchase at a garden center. Follow the directions printed on the label for mixing and applying.
Place the pots in a sunny window that receives at least six hours of sun per day. Vegetables need optimal sunlight for optimal growth. If possible, hang a set of grow lights over the plants. If growing in a window, turn the plants every few days to give each side sufficient sunlight.
Things You Will Need
Gravel

5-gallon pot

Premium potting soil

Tomato cage

Fertilizer