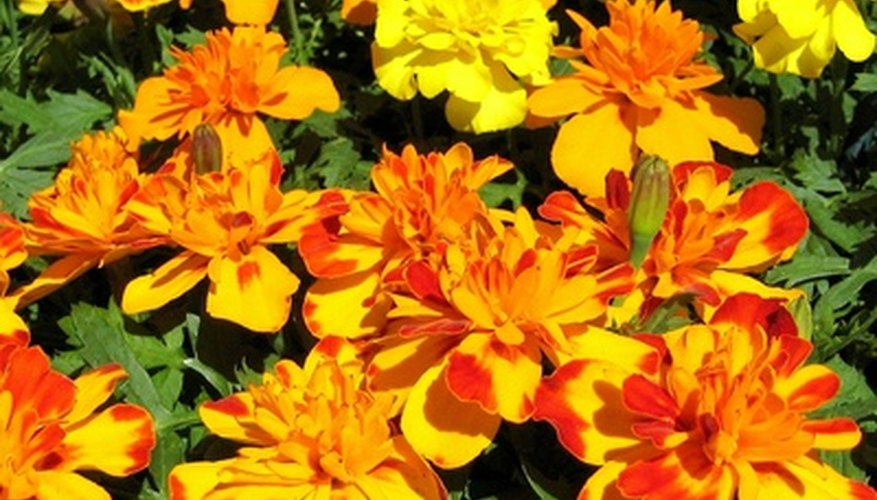 Growers produce annual flowers in such wide varieties that selecting the best plants presents a challenger for gardeners. Some plants outperform other annuals consistently in the landscape. These cultivars provide continued low maintenance and color for the entire summer growing season. The best annual flowers to plant in your landscape depends on light availability, soil needs, watering requirements and maintenance preferences. The entire suite of annual plants adds depth and dimension to the home landscape in gardens or containers.
Snapdragons
The intricate flower of the snapdragon might look delicate but the plant acts tough in a full sun location. Snapdragons come in a wide variety of colors and size to suit many garden applications. Tall and dwarf cultivars exist in a host of colors for use as edging plants or in container gardens. Snapdragons feature spikes that shoot upward from thin leaf foliage clumps. The spikes feature a ladder effect of flowers in red, yellow, white, pink, purple and variegated blooms. The flower head resembles a mouth, hence the snapdragon name. Blooms provide long-lasting color in the landscape and require little care. Snapdragons prefer organically rich soil and consistent moisture for best results. Clip back dead flowers to induce continued bloom production.
Madagascar Vinca
The truly outstanding qualities of the vinca include both bloom length and the lack of maintenance for this tough annual. Madagascar vinca, also called annual periwinkle, offers an upright compact plant that grows up to 18 inches high. Plants feature blooms in white, pink, purple and red. Vinca flowers continually through the summer and doesn't need deadheading. Vinca tolerates sun and partial shade. Foliage consists of oblong deep-green leaves with a shiny patina. Use the Madagascar vinca in hanging baskets, container gardens and flowerbeds for an outstanding floral display.
Marigolds
Marigolds hold a soft spot in the heart of gardeners who love the color yellow. The sun-loving annual plants feature lacy medium-green foliage with a sharp odor. Marigolds like full sun and serve with great versatility as border plants and majestic additions to container gardens. Blooms range in color from shades of yellow to bright orange. Flowers resemble a pom pom with many cultivars featuring tightly layered petals. Different cultivars produce dwarf plants of roughly 6 inches in height. Taller cultivars grow to heights of 3 feet or more to form a bushlike addition to the garden. Provide well-drained rich soil for best growing results. Marigolds require regular deadheading to produce more blooms. Pinching back foliage promotes bushier growth to the plant.