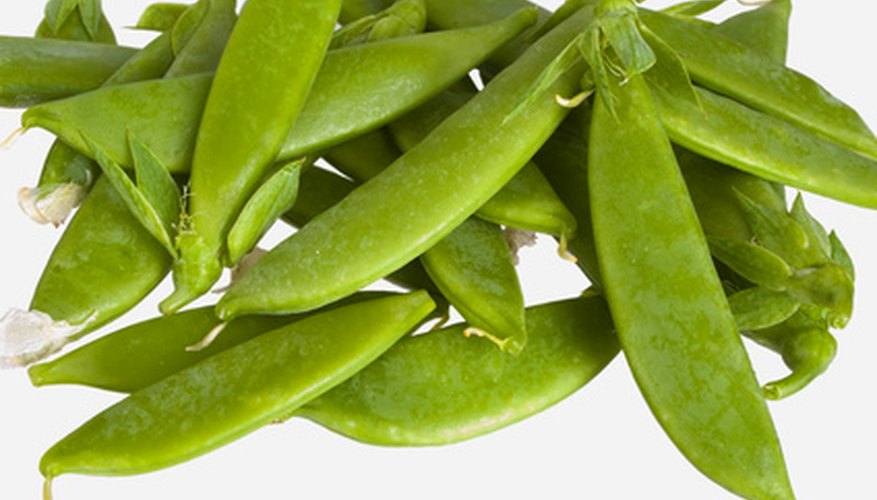 Herbicides for snap beans are an essential part of crop growth before harvest due to the threat of annual, perennial and broadleaf grasses that act as invasive weeds. During weed infestations, snap beans cannot compete with the invading plants, leading to a decreased plant yield at harvest. A variety of herbicides are applied before and after snap beans emerge as a control measure.
Glyphosate
Glyphosate applied in a rate of 1.15 lbs. per acre is a no-till pre-emergence herbicide, meaning it can be applied to soil without the need for tillage or on soil that operates under a minimum tillage system. Pre-emergence herbicides are applied before snap beans emerge from the soil. Glyphosate used as an herbicide for snap beans controls annual and perennial weeds that are in a state of active growth. Read the directions label for appropriate growth level of weeds for optimal application timing.
Paraquat
Paraquat applied in a rate of 0.5 to 1 lb. per acre is a no-till pre-emergence herbicide for snap beans that is applied after crops have been planted but before plants emerge from the soil. Alternatively, you may apply paraquat to bean crops in two treatments; apply once before planting of seeds and once after if weeds are already present. If applying two treatments, break the amount in half; using more than the maximum suggested application amount may be harmful to snap beans.
DCPA
DCPA at a rate of 6 to 10.5 lbs. per acre is a pre-emergence herbicide applied to tilled soil for control of broadleaf weeds and annual grasses in snap bean crops. For most successful use of this herbicide, irrigate after application.
Bentazon
Bentazon used at a rate of 0.5 to 1 lb. per acre is a post-emergence herbicide applied to snap bean crops after plants break the soil's surface. When applying the 0.5 lb. per acre rate of bentazon, this herbicide successfully controls mustards, jimsonweed and common cocklebur. When applied at 1 lb. per acre, bentazon controls common lambsquarter, common ragweed, Canada thistle and yellow nutsedge. To protect crops from potential injury, only apply bentazon when temperature are below 90 degrees Fahrenheit.
Sethoxydim
Sethoxydim applied at a rate of 0.2 to 0.3 lbs. per acre as a post-emergence herbicide for snap beans controls perennial and annual grasses. Exceptions include wild onion, yellow nutsedge and broadleaf weeds. Apply sethoxydim without additives and avoid applying during drought-like weather or periods of hot or dry environmental conditions. Apply during active weed growth.