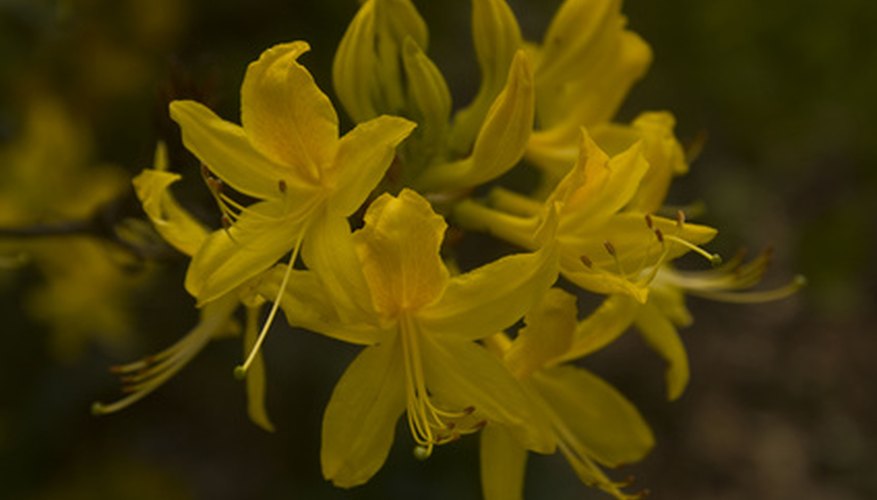 yellow azalea image by Tetyana Kholodna from Fotolia.com
Having large shady areas doesn't necessarily limit the amount of color you can add to your landscape. Many shrubs are available to brighten those light-deprived spots, says University of Vermont Extension's Dr. Leonard Perry, Ph.D. Some of these shrubs have colorful blooms; others have eye-catching, variegated foliage; and some brighten the shade with seasonally changing leaves. Planting a variety of them will make your garden's shady spots as appealing as its sunlit ones.
Korean Azalea
Korean azalea (Rhododendron yedoense var. poukhanense) is a shade-loving shrub hardy to minus 40 degrees F. Growing 3 to 6 feet tall and up to 12 feet wide, it has glossy, deep green foliage that becomes red-orange in fall. Fragrant, early spring clusters of lavender to pinkish-purple blooms appear in early spring.
Like all rhododendron family plants, this azalea is vulnerable to numerous problems. They range from root or crown rot and canker to aphids, scale and nematodes. Providing the right environment will limit them, according to the Missouri Botanical Garden. Plants like partial to full shade and humus-rich, consistently moist and well-drained soils. Provide organic mulch and winter protection from winds.
Deciduous Azalea "Golden Lights"
Deciduous azalea (Rhododendron) "Golden Lights" is a small—up to 6 feet high and wide—hybrid plant hardy to minus 40 degrees F. Notable for its abundant May clusters of fragrant, golden yellow blooms, it makes an attractive foundation, specimen or border planting, according to the Missouri Botanical Garden. Plant it in partial shade with filtered sun and acidic—pH below 6.8—fertile, humus-rich well-drained soil. Plants in full shade flower less. Use oak or pine mulch to maintain soil moisture.
Aralia "Variegatus"
Aralia (Eleutherococcus sieboldianus) "Variegatus" brings showy, white-edged bright green leaves to the shade garden. Withstanding temperatures to minus 30 degrees F, it reaches 6 to 8 feet high and wide. Small white May blooms produce black berries on pollinated female plants. "Variegatus" has sharp thorns at its leaf bases. Largely free of diseases and pests, it makes an attractive addition to shrub and perennial borders and shade gardens. It tolerates drought, pollution and poor soil. To prevent unwanted spread, remove suckers as they appear.
Holly-Leaf Oregon Grape
Holly-leaf Oregon grape (Mahonia aquifolium) is a mounding, broadleaf evergreen. Its shiny, sharp-toothed deep green leaves are coppery when new and red-tinged in autumn. Between March and May, profuse clusters of vivid yellow, bell-shaped bloom appear. They give way to small blue fruit, a good jelly ingredient and wildlife food. Plants like partial to full shade and moist, acidic, well-drained loamy soil, according to the Lady Bird Johnson Wildflower Center. They suffer from scale, whiteflies, aphids and drying winter wind.