When planning a garden with year-round blooms, gardeners have quite a few choices in plants that produce flowers all year. These plants work well in garden spaces mixed with annuals and perennials, as they will guarantee continuous color. Quite a few of the species with year-round blooming capabilities prefer warm climates, so gardeners in cool climates should use them as container-grown plants or grow them as annuals.
Mexican False Heather
Mexican false heather (Cuphea hyssopifolia), also called Hawaiian heather, is a small, year-round, flowering shrub that is a member of the family Lythraceae. It is an evergreen perennial that forms into mounds filled with masses of tiny flowers in colors of purple, pink or white. Its fernlike-foliage and constant flowering habit make it well suited for use in container gardens, borders or mixed gardens. The plant attracts sulfur butterflies, so it works well planted in butterfly gardens. Mexican false heather also thrives as a houseplant.
It is a perennial in USDA Plant Hardiness Zones 8 through 11. Cooler regions experiencing annual frosts and freezes can bring container-grown plants inside to a warm, sunny location until weather warms, or treat Mexican heather as an annual. Plants grow up to 2 feet in height with the same spread. Minimal pruning is sometimes required, as the plant has a tendency to look straggly. It tolerates a wide range of well-draining soils and prefers full sun to partial sun conditions. Mexican heather is quite tolerant to drought once mature, but grows best with regular watering.
Bush Daisy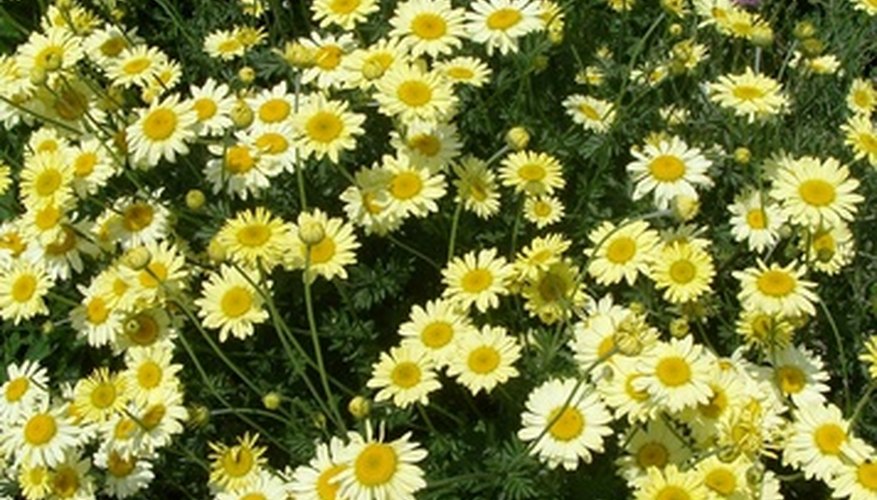 Bush daisy (Gamolepis chyrsanthemoides), also called African bush daisy, acts as an evergreen, year-round blooming perennial planted outside in USDA Zones 8 through 11. Cooler regions of the country should utilize it as an annual or as a container-grown plant for winter protection, as plants will not tolerate freezing temperatures. It has a mounding habit with dense, fern-like foliage filling with yellow daisy-like flowers all year long. It works well in dry and butterfly gardens, used in borders, mixed flower gardens or as a tall groundcover.
Plants flower best receiving full sun, though it will tolerate partial sun conditions and a wide variety of well-draining soils. Once established, it has a moderate tolerance to drought, but prefers regular watering. Bush daisy plants grow up to 4 feet in height and spread. Deadheading spent flowers promotes new blooms.
Hibiscus
Hibiscus (Hibiscus rosasinensis), also called tropical hibiscus, is a strikingly attractive shrub that flowers all year. It is an evergreen perennial planted in the ground in USDA Zones 9 through 11. Cooler regions should plant hibiscus inside containers for protection when temperatures dip to 50 degrees F and below. There are various cultivars producing both large single and double flowers in colors that are as wide as the rainbow. They work well as specimens, as hedges and in mixed perennial and annual gardens.
Depending on the particular cultivar grown, hibiscus plants can grow up to 10 feet in height with almost the same spread. They prefer growing in full to partial sun and tolerate a wide variety of well-draining soil types with regular watering. Pruning increases the plant's density and promotes more blooms.