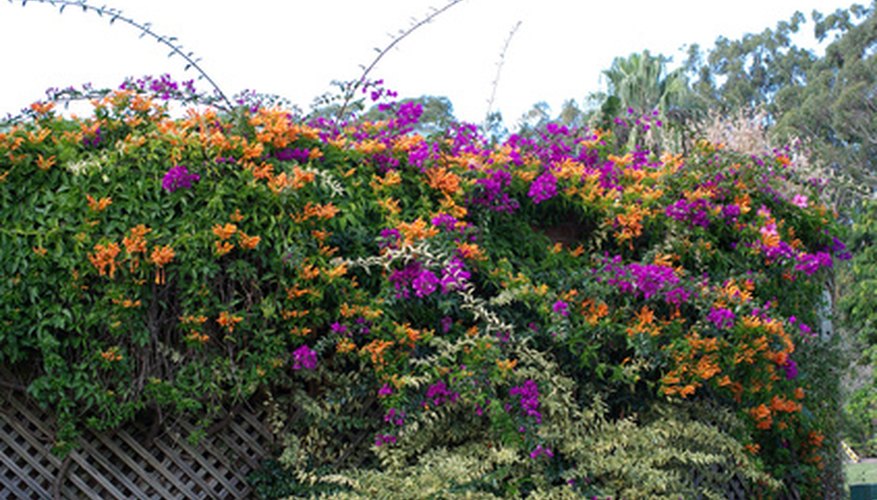 Fast-growing plants, or vines, create a blanket of color with lush green foliage and sometimes colorful blooms that appear in spring or summer. Plants growing on a trellis add another dimension to the home garden and can help to fill in bare spots in the garden quickly and effortlessly. Most fast-growing trellis plants are hardy and relatively easy to care for, allowing the gardener the time to sit back and enjoy the beauty of these plants.
Trumpet Vine
Trumpet vine (Campsis radicans) is a perennial plant that grows from 25 to 40 feet in height and is cold hardy in USSA growing zones 4 to 9. This attractive plant has trumpet-shaped flowers that come in brilliant colors of red, orange and yellow. Trumpet vine grows best in full sun with some partial shade in the afternoon. It also attracts hummingbirds.
Morning Glory
Morning glory (Ipomoea purpurea) plants are an annual, lasting only one season. Fortunately, they reseed and come back the following the spring. This plant loves full sun and grows from 6 to 12 feet tall. Large blue, trumpet-like flowers appear in spring with a background of green foliage.
Hyacinth Bean
Hyacinth bean (Lablab purpureus) is tender perennial is cold hardy only in zones 10 and 11 and is usually grown as an annual. Hyacinth bean plant thrives in full sun locations and grows up to 20 feet tall. The spring flowers are either rose/pink or white, and are followed by red seed pods that resemble a pea pod. This plant will cover a trellis in one growing season.
Common White Jasmine
Common white jasmine (Jasminum officinale) is a semi-evergreen vine that grows best in zones 9 to 11 and needs full sun while tolerating some partial shade. Its fragrant white flowers are about 1 inch in diameter and bloom in the summer, filling the garden with the intoxicating scent. Jasmine can grow about 10 to 15 feet tall covering a trellis quickly.
Blue Chinese Wisteria
The shade-tolerant blue Chinese wisteria (Wisteria sinensis) is hardy in zones 5 to 10 and is a deciduous plant that grows quickly. Blue Chinese wisteria can get up to heights of 25 feet or more. Its fragrant large clusters of flowers, 12 to 18 inches in length, bloom in violet/lavender colors in late spring to early summer and the foliage turns yellow in the fall continuing the show of color in the garden throughout the growing season.