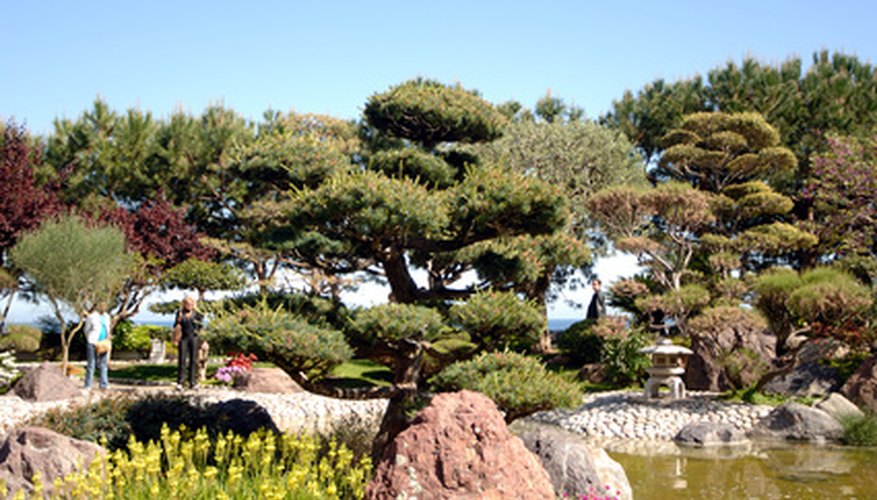 Zen gardens are also commonly known as Japanese rock gardens. Zen gardens are based on Zen Buddhism and are dry landscape gardens. The gardens are known in Japanese as "karesansui." The focus of zen gardens is to re-create the tranquility, serenity and calm of nature in an attractive way. Zen gardens also aim to encourage meditation and deep thought. The gardens tend to be composed of gravel, sand, pebbles and rocks. There are various popular arrangement tips that can help make designing a zen garden much easier.
Stepping Stones
Stepping stones are popular elements of many traditional zen gardens. Sand or gravel beds that are raked in by various flat river red stones can be inserted in a straight line from both corners. Stepping stones are attractive and also have a simplistic design that works to enhance the thought process and problem-solving.
Three Wise Men
Three Wise Men is another popular component to many zen gardens. This design is ideal when placed alongside three weathered stones and a sand bed. Place the rocks as if they are situated on an isosceles triangle's corners. Make sure the sand inside of the triangle is both soft and smooth. It is important to rake the sand around the stones in a pattern that resembles a sunburst. The Three Wise Men design aims to envoke the concept of a shared pool of wisdom and knowledge.
Wind Chimes
Wind chimes are popular elements of zen gardens. Place feng shui wind chimes all throughout the zen garden. The chimes are made entirely out of bamboo and have relaxing sounds that can help reduce any negative energy that is inside of the mind, helping to promote positive thinking instead.
Lighting
Outdoor lighting is a helpful element to the arrangement of any zen garden. Outdoor lighting can be implemented with the use of lanterns and fire torches. Lighting systems can also be used for this purpose. Lighting systems can bring in multiple colors simultaneously, which can result in added dimensions to the garden. Lights also can be used to highlight any notable rocks or plants in the garden and also to produce an effect that is similar to that of a silhouette.