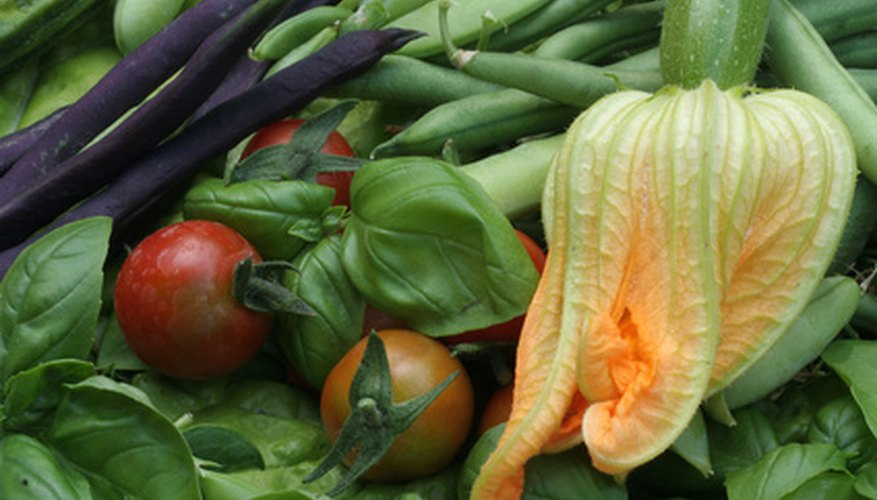 Many cooks want to use fresh produce from their own gardens. They want the better flavor and nutrition that comes from their own home-grown produce. And they often prefer the ingredients that they use in their cooking to be organic. How a cook designs her small kitchen garden depends on where she lives and the conditions in her area. It is also dependent on how much space she has available to her.
Choose the best place for the kitchen garden—consider the sunlight needs of the plants that are chosen for planting as well as drainage needs. Be sure there will be enough space for the amount of items to be planted and select a spot as close to the kitchen door as possible.
Use organic soil. Mix compost with the soil when planting an in-ground garden or in beds to ensure there are enough nutrients for the garden to grow. Use a compost and potting soil mix when using containers. Fertilizers will not be necessary.
Purchase organic heirloom seeds for more disease resistance and healthier plants, providing the cook with more nutritious produce to work with.
Choose vegetables and fruits that are easy to grow in small spaces or in container gardens. Be sure they are foods that will be used readily or can be preserved for later use.
Plant herbs that are used in cooking, and learn to dry them for use during the colder months of the year. Parsley is a great candidate for drying.
Grow some edible flowers to add to soups and salads. Try flowers such as nasturtium. Use the flowers of some herbs, like chives, that can also be eaten.
Use different techniques in a small kitchen garden to help to ensure a steady flow of fresh food from the garden. Incorporate square-foot gardening into your growing method to make it easy to place a garden close to the kitchen door. Using container gardening is also helpful for this, and almost any type of container can be used.
Try lasagna gardening, which allows for the use of compostable materials without the need for compost piles or bins. Use a technique called succession planting, which allows the cook to garden a little each week to ensure he will have fresh produce throughout the summer and fall seasons.
Grow produce upward. Consider trellises or growing along fences.