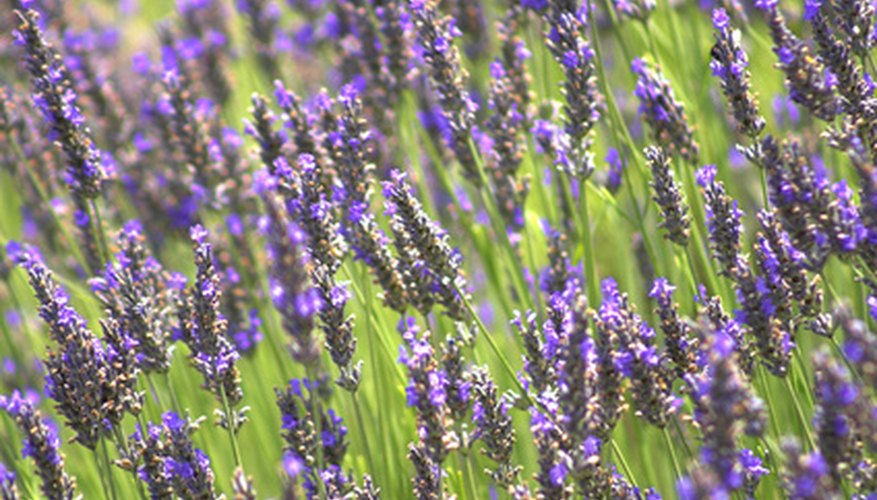 A low hedge may be used as a barrier between properties, along a walkway or to accent a garden area. Many low-growing shrubs have dense foliage and respond well to pruning. Low-growing hedges may be shaped or left to grow naturally, depending on the type of landscape they will be used in.
Barberry
Barberry (Berberis spp.) is a genus of tough shrubs that grow to about 10 feet and work well as a hedge. Barberry has dense green foliage that may resemble holly and some varieties are hardy to as low as minus 20 degrees F. Japanese barberry (B. thunbergii) grows to about 6 feet and has round leaves grow to about 1 1/2 inches. The leaves are green on top and lighter on the bottom and age to yellow, orange or red before dropping. Small, bright red berries appear in fall and winter. Barberry thrives in full sun to light shade and requires regular water.
English Lavender
English lavender (Lavandula angustifolia), which grows to 4 feet, makes for a distinctive and fragrant low hedge that requires little care. English lavender, which is used in sachets and perfume, has smooth-edged gray-green leaves and purple flower spikes in late spring or summer. This herb may be trimmed back or left to grow naturally. The Alba cultivar has white flower spikes while the Irene Doyle cultivar blooms in summer and early fall. All varieties may be used as hedges or border plants. Lavender thrives in full sun, requires moderate water and is hardy in U.S. Department of Agriculture Plant Hardiness zones 5 to 9.
Vibrurnum
Two varieties of vibrurnum are low growers. Withe Rod (Viburnum cassinoides) and V. davidii both have dark green foliage, white blooms and work well as short hedges. Withe Rod, which is native to the eastern and central parts of North America is a dense, rounded shrub that grows to about 6 feet. Leaves are dull and age to red, orange or purple in fall. Blooms are followed by mixed clusters of blue, green, pink and red fruit. V. davidii tops out at about 4 feet high and foliage is glossy. The plant's white flower clusters are followed by turquoise blue fruit. Both respond well to pruning, require regular water and thrive in full sun to part shade. These varieties are hardy in zones 5 to 8.