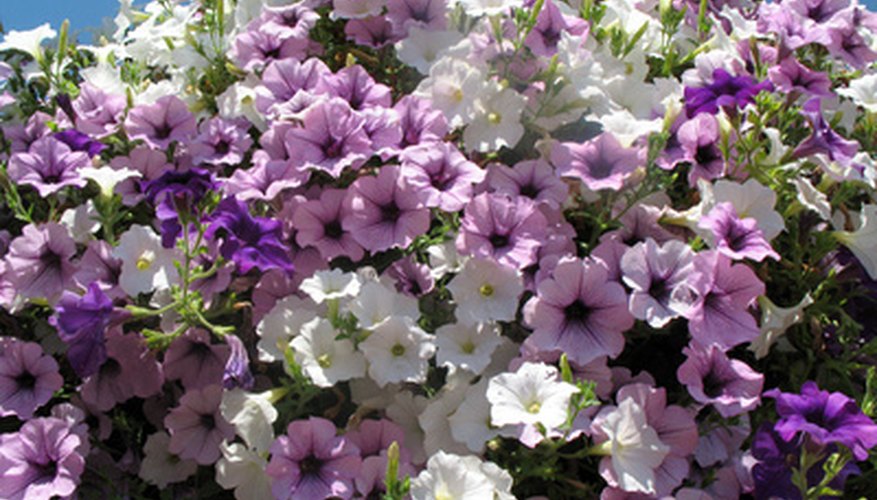 Hanging plants, or plants planted in hanging baskets, provide color and interest to a porch or patio. Almost any plant that is planted in a container can be made into a hanging plant in a hanging basket. However, some plants are more suitable for hanging baskets because they have an attractive trailing habit, low or mounding growth profile or produce attractive blooms.
English Ivy
English Ivy (Hedera helix) has dark green glossy leaves and a trailing habit that will cascade over the sides of a hanging basket in part shade. It prefers to have moist roots but dry foliage. To avoid mildew or fungal problems water at the root base rather than soaking the entire plant. An application of half strength water soluble fertilizer appropriate for container plants applied once a week will keep English Ivy looking beautiful all season.
Petunia
Petunias (Petunia) are probably the most used hanging plant available. Garden centers and nurseries are filled every spring with baskets of flowering petunias. While they prefer full sun, Petunias collapse quickly if allowed to dry out. Therefore, be prepared to water every day if necessary during the hottest part of the season. Petunias will naturally decline and go to seed by mid-summer.
Portulaca
Portulaca (Portulaca grandiflora) or Moss Rose is a good plant to use for hanging baskets located in full to partial sun. There are improved varieties that produce a multitude of flowers in a variety of colors from pink to lavender to orange. There are even some double flowering varieties available. Portulaca appreciates regular watering but the top inch of the soil in the container should be allowed to dry between watering.
Verbena
Verbena (Verbena hybrida) or Trailing Verbena is a great plant for a hanging basket because it is heat and sun tolerant and cascades over the side of the basket. It blooms profusely throughout the season if given sufficient moisture and rich soil. Verbena varieties of purple, pink, red or white are widely available at garden centers and nurseries in the spring.
Begonia
Begonia (Begonia semperflorens) is a plant that is tougher than it looks once acclimated to outdoor conditions. There are several different types of Begonias. There is the sun tolerant Wax leaf Begonia and the large-leafed and unusual Angel Wing Begonia that must be grown in a location sheltered from high winds. All Begonias produce flowers all season if given adequate moisture and occasional fertilization. In the Southern U.S., a hanging basket full of begonias can last for years.