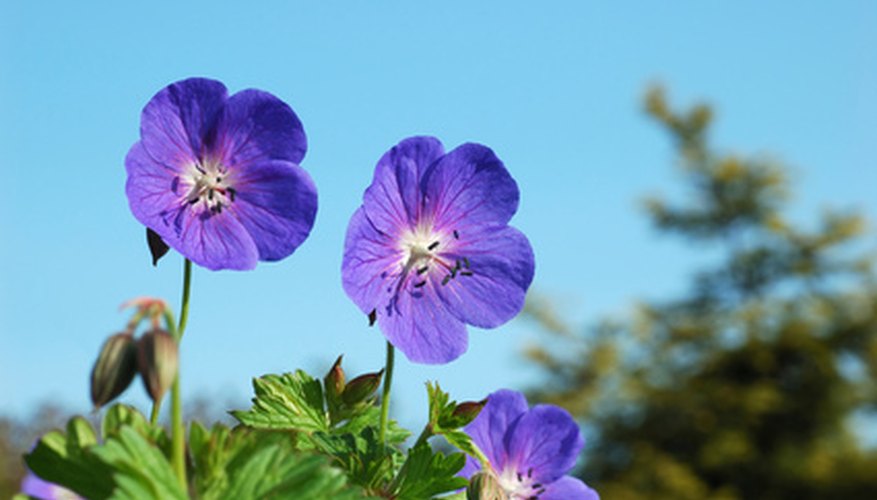 The geranium (Geranium spp) is a genus of flowering plants, also known as cranes bills. Depending upon the species, geraniums have various growing habits from clumping to spreading. They bloom in late spring through summer and some species are drought-tolerant, making them a plant to consider for the xeriscape garden. Be aware that ivy, scented and zonal geraniums are not true geraniums, they are varieties of Pelargonium. If you want to plant true geraniums, look for seed packets that are labeled "hardy geranium" or "cranes bill." Sow the geranium seeds in late January and you will have blooms within 12 weeks.
Fill the tray to within 1/2 inch of the top with equal parts of spaghnum peat moss and vermiculite. Lightly press down the soil with your hands and then water it. Allow the tray to drain completely.
Place the seeds on the surface of the soil, 1/2 inch apart, in rows 3 inches apart. Cover them with a 1/8-inch layer of soil. Use the spray bottle filled with water to lightly mist the top layer of soil until it is evenly moist.
Place the tray in a plastic bag and then in an area that receives bright but indirect sunlight. Check the soil periodically and if it appears to be drying, mist it lightly with water. Germination could occur within one week or can take as long as 4 weeks.