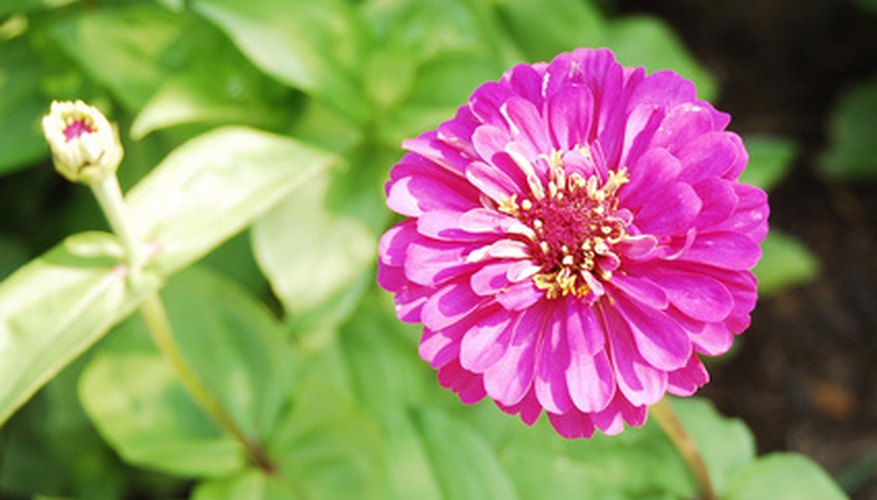 Zinnias are colorful, annual flowers (reference 2 paragraph 1) that add beauty to your outdoor gardens and make great cut flowers (reference 2 paragraph 2) for a splash of color indoors. They are a great addition to butterfly gardens, as they attract many different butterfly species with their long blooming season. (reference 2 paragraph 2). Zinnias may be started indoors four to six weeks before your areas frost-free day, or sown directly into an outdoor garden once the risk of frost has passed. (reference 1)
Sowing Zinnias Indoors
Fill peat pots with potting soil. The soil should come to approximately one inch below the top of the peat pots.
Pour water into each peat pot, just enough to moisten the soil. Allow the pot to sit and drain out any excess water before planting the seeds.
Plant the zinnia seeds into each pot. Place three or four zinnia seeds on top of the soil in each peat pot.
Cover the zinnia seeds with a 1/4 inch layer of potting soil. Mist the surface of the soil with a water bottle.
Cover the tops of the peat pots with clear plastic wrap. Seal the wrap with an elastic band or string, wrapped around the top of the pot to keep air from coming in contact with the soil.
Place the pots in a warm, sunny location with temperatures of 75 to 80 F.
Remove the plastic wrap from the pots once the zinnia seedlings have emerged. This will take approximately six to ten days after planting.
Transplant the zinnia seedlings once each plant has grown two sets of true leaves. A pot 2 1/4 inches in size, or larger, is recommended. You may continue to grow the zinnias in the pots, or transplant them to an outdoor garden when the risk of frost has passed.
Sowing Directly into the Garden
Prepare the garden's soil. Spread a 2-inch layer of peat moss on top of the garden's soil and work it into the soil with a shovel.
Plant the zinnia seeds into the soil. Place the seeds, in rows, 1/2 inch deep into the soil. Do not worry about spacing the seeds at this point.
Fill the 1/2-inch holes back in with soil and water the garden thoroughly. Continue to keep the soil moist until the seedlings emerge.
Thin the seedlings. Improve spacing of the seedlings by cutting unwanted seedling off at soil level, or digging them up and transplanting them elsewhere.