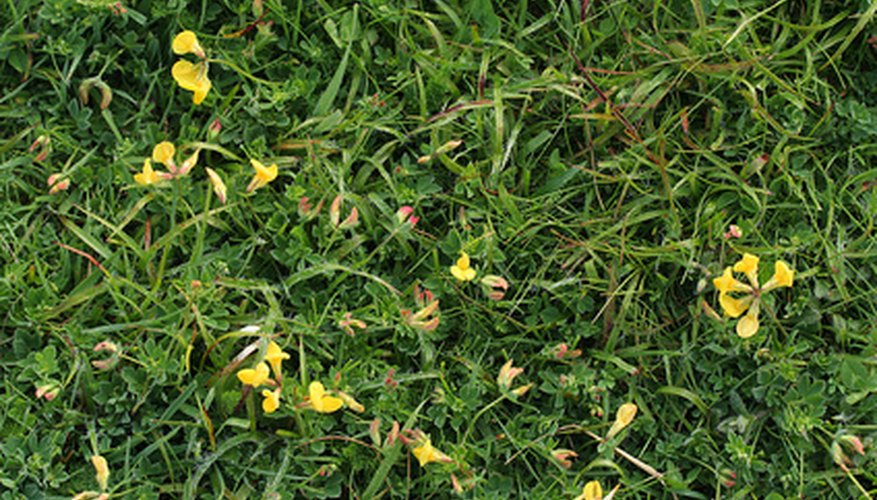 ground cover, image by hazel proudlove from Fotolia.com
Yellow flowers get rid of the down feelings and bring a bright, joyous feeling to a space and the people in it. Groundcovers go where other plants fear to go--under taller plants, between rocks, over walls and quickly spread to cover a bare spot. Perennial groundcovers last for years, are tough, require little maintenance, Just give the plant the conditions they need and let them go.
Types
Aaron's beard (Hypericum calycinum) is also known as St. Johnswort and is a native of Southeastern Europe and Asia Minor. Creeping Jenny (Lysimachia nummularia 'Aurea') is able to stand up to light foot traffic. Orange stonecrop (Sedum kamtschaticum var. floriferum 'Weihenstephaner Gold') is native to Kamchatka, Siberia and has two types of leaves.
Features
Aaron's beard grows up to 1 foot tall and 2 feet wide. Oval, 3-inch long leaves start as a chartreuse-bronze color, turn medium green, dark green and then blue-green in the fall. Canary-yellow flowers measure 2 inches across and bloom from July through September. Creeping Jenny grows from 3 to 6 inches tall and spreads from 1 to 1-1/2 feet wide. The plant features round, yellow, ruffled leaves 3/4 inch wide and yellow, cup-shaped flowers also measuring 3/4 inch that bloom in June. Orange stonecrop grows from 3 to 6 inches tall and 3 to 12 inches wide. The plant features star-shaped, yellow flowers growing in flat clusters in June and July and thick, triangle shaped leaves are succulent, 1-1/2 inches long and egg-shaped, dark-green leaves measure up to 1-1/2 inches long.
Environment
Plant Aaron' beard in full sun or partial shade and a most, well-drained soil. The plant is hardy in USDA zones 4 to 8 and does well in an urban environment. Creeping Jenny is hardy in zones 3 to 9 and likes full sun or partial shade and a soil that is moist to wet and well drained, but not allowed to go dry. Plant orange stonecrop in full sun and a soil that is moist to dry and well drained. Wet soil is not good. The plant is hardy in zones 3 to 8.
Uses
Aaron's beard grows well in mass plantings or grown along an embankment. Plant creeping Jenny by the banks of a stream, in a water garden or let the plant drape itself over a wall. Orange stonecrop goes best in a rock garden or where it only has to cover a small area.
Problems
Aaron's beard, like the other members of the St. Johnswort family, is virtually disease and insect free. The plant is mowed down to the ground in the northern end of the hardiness range or the stems will suffer from winter dieback. Creeping Jenny is an aggressive grower, sends out shoots to establish new plants and can take over a lawn or flower garden. Orange stonecrop has no significant problems.
Resources