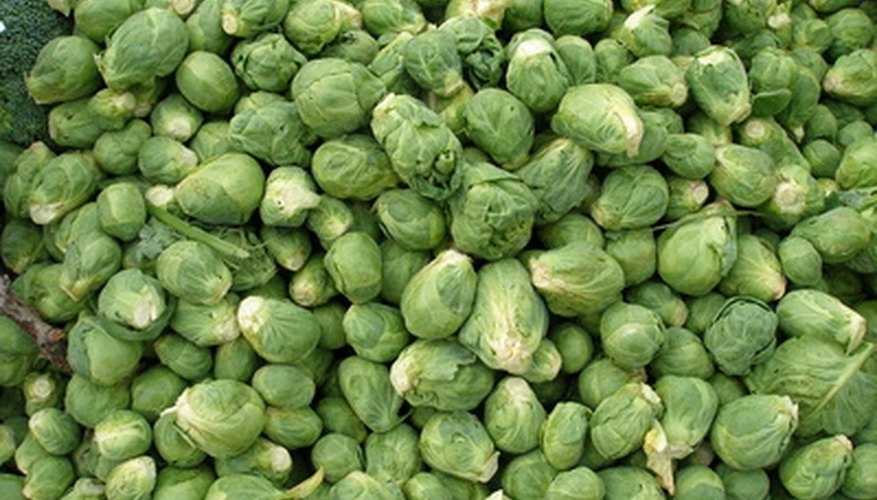 Brussels sprouts are related to the cabbage family of plants--in fact, the sprouts resemble small cabbage when mature. This vegetable prefers being grown in areas with cool, moist summers. Growing Brussels sprouts in the home garden requires a good deal more maintenance than other vegetables since there are many soil-borne pests that thrive on the tender sprouts. Before planting, contact your local agricultural extension office to inquire about pest issues you might have growing these vegetables.
Planting Brussels Sprout Seeds
Scoop a sterilized seed compost into a large bowl or plastic bucket. Wet the compost using a fine stream of water until it feels damp but not so wet that it's sodden.
Fill up biodegradable 4-inch wide planting pots with compost until each is full to about 3/4 inch from the top. Do this approximately eight weeks before the last spring frost is expected in your region.
Create two 1/4-inch-deep holes about 1 inch apart in each pot.
Plant two Brussels sprouts seeds per hole.
Sprinkle 1/4 inch of the seed compost over the seeds. Mist the compost with water until it is very damp.
Place the pots near a good source of bright, indirect light, such as near a southwest- or south-facing window. Never allow the compost to completely dry out, but avoid watering so often the soil becomes drenched. Brussels sprouts seedlings should begin sprouting in seven to 14 days.
Transplant the seedlings when they are about five weeks old and between 3 and 5 inches tall.
Transplanting Brussels Sprouts
Break up the soil in the planting site to a depth of 12 to 14 inches. Prepare the planting site about three weeks before planting the Brussels sprout seedlings.
Mix into the soil, using a garden fork or a spade, a 5-gallon bucket full of aged manure or dehydrated plant-based compost for every square yard of planting area.
Mix together 1 level tablespoon of boron with 8 cups of 8-8-8 or similar fertilizer in a bucket or basin. The use of boron will prevent low crop output and small buds. Fertilizer will ensure a rapid, steady growth. Spread the mixture out across the soil in the planting site and mix it all into the soil thoroughly.
Create 3-foot-wide rows in the planting site that are about 3 feet apart. Dig holes wide and deep enough to accommodate the size of the biodegradable pots. The holes should be about 24 inches apart.
Place a Brussels sprout seedling into one of the planting holes at the same depth at which it is currently growing. Firm the soil around the pot as you fill the hole with soil.
Water each of the Brussels sprout seedlings with approximately 1 to 2 quarts of water.