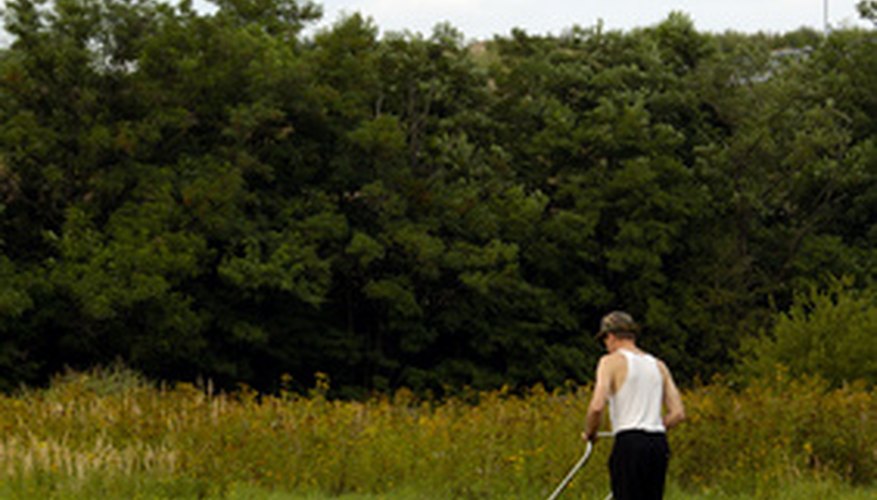 Because Toro and Lawn Boy are owned by the same parent company, it can be difficult to find obvious differences between the two once you get past the color. Toro's distinct red and Lawn Boy's bright green aren't the only way to tell them apart, however. If you take a look at the history of these two brands, you get a feel for the engine distinction, which initially set them apart and which may still influence potential buyers.
Engine Type
A two-stroke, or two-cycle, engine runs on oil and gas mixed together and thus made these machines better for running on steep slopes and hillsides because the oil was continually circulated through the machine, keeping it from burning up. Until about 2004, most models of Lawn Boys had a two-stroke engine while almost all Toro models had a four-stroke engine. A four-stroke engine is often preferable because it doesn't require the user to combine oil and gas before filling up the fuel tank.
History
Back in 1982, Toro purchased OMC brand engines because they made two-stroke engines, one of which was Lawn Boy. The brand was struggling, but with the Toro purchase, they gained funds for more marketing and became a popular alternative due to their two-stroke engine. However, due to stricter EPA regulations of the emissions of two-stroke engines, Toro chose to fade out the Lawn Boy's two-stroke engine in 2004. The strict restrictions made the machines cost-prohibitive to manufacture, so Toro closed the two-stroke Lawn Boy engine plant in Oxford, Mississippi.
Misconceptions
One of the last two-stroke Lawn Boy engines was called the Duraforce. The Duraforce often had problems with its carburetion system because it was manufactured to run lean in order to meet the emissions restrictions. Running lean meant that the engine ran with very little oil in the fuel-oil mix, which resulted in the RPMs cycling up and down and creating carburetion problems. Folks who had experience with the Duraforce often think Lawn Boy just produces "bad engines," but that is not the case; since Lawn Boy now uses a four-stroke engines, the carburetion problems caused by the lean-running Duraforce are no longer an issue.
Features
Since the 2004 elimination of the two-stroke Lawn Boy, the main difference between Toro and Lawn Boy mowers is oing to be found in the ability to cut on hillsides. Lawn Boy usuall incorporates engines that oil pumps. Oil pumps distribute oil throughout the engine, so even if the engine is at an angle while being used on a hill it will still be lubricated. Toro offers particular models with oil pumps, as well, but often at a higher price point than the Lawn Boy models.
Design
Pre-2004, there were more design differences between Toro and Lawn Boy. Lawn Boy tended to be boxier, free of extraneous features, and, of course, coated in bright green paint. Toro tended to be the more apparently home-owner friendly of the two, with cushier handle grips and water-bottle holders. Since 2004, Lawn Boy has followed suit to become a softer, rounder machine, with bigger, plastic tires and features like folding up for storage.