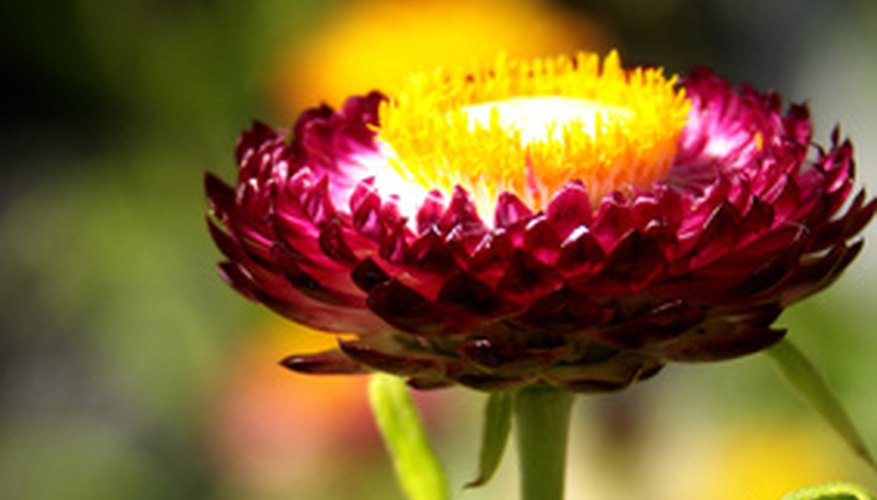 deep purple colored single strawflower image by Sherri Camp from Fotolia.com
Arizona lies in U.S. Department of Agriculture hardiness zones 5 to 10 with both mountain and desert regions. With such extremes in temperature, flowers that bloom in the Arizona summer must be hardy enough to withstand the sun of the desert and cold of the mountains. Flowers must also be drought tolerant enough to withstand the dry conditions.
Strawflowers
Strawflowers are grown as perennials in Arizona. The plants are native to Australia. They prefer full sun and are drought tolerant. Strawflowers grow to a height of 3 feet with a width of 1 foot. Dwarf varieties are available also. The medium-green leaves are 2 to 5 inches long and spear-shaped. The flowers resemble pompoms and are available in yellow, orange, red, pink and white, according to Desert Tropicals. The flowers begin to bloom in the summer and last until the frost. The strawflower is known as the everlasting flower because when it is dried, the bloom lasts indefinitely. Sow seeds in late spring or early summer.
Scarlet Sage
The scarlet sage is a perennial in Arizona. The plant grows as a subshrub, with a height from 2 to 3 feet. The flowers range in color from red to pink to white and bloom beginning in the spring through to fall, according to Floridata. The scarlet sage attracts both butterflies and hummingbirds. The leaves are triangular shaped and grow from 1 to 2 inches long. Scarlet sage can tolerant light shade but favors full sun. The plant is drought tolerant but needs water to continue flowering. Scarlet sage reseeds itself annually and plants can be started from seeds. This plant is often mistaken for the scarlet sage from Brazil.
Desert Four-O'Clock Flowers
Desert four-o'clock flowers are perennials that are grown as annuals in Arizona. The plant dies back each year but regrows from its tuberous roots. Native to the Southwest U.S., the desert four-o'clock blooms in the late afternoon, after the temperature drops and through the night. The plant has many branches and grows in a clumping shape to 1 to 2 feet high and 3 to 5 feet wide. The four-o'clock blooms all summer with bright pink, funnel-shaped flowers, according to Desert USA. The leaves are gray-green and are heart-shaped or oval. The seeds and roots are poisonous. Sow the seeds in the fall or spring.