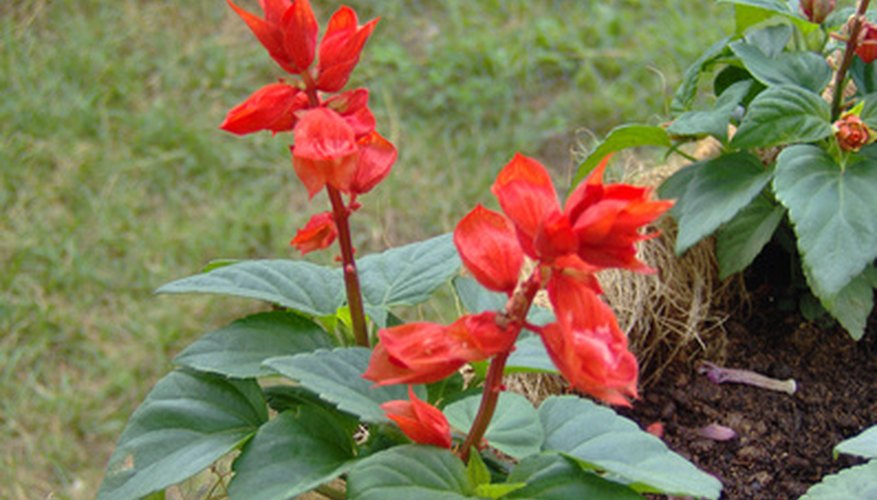 Annual flowers comprise a group of plants that survive for a single growing season. Annuals grow from seed to mature flowering plant in the space of a few months. Gardeners use annuals as accent plants for borders, container gardens, and flowerbeds. Heat-tolerant annual flowers include a wide range of plants for use in the hot, dry summer landscape.
Salvia
The family of salvia includes both annual and perennial flowers. This member of the sage plant family features an upright growth habit with a single center stem that transitions from foliage to flower. Flower colors include blue, red and white. Salvia produces the light scent typical of sage plants. Salvia likes a sunny location and tolerates heat with continuous blooms. The plant does require pruning to remove spent blossoms and to induce thick foliage. Salvia grows up to 18 inches high and 12 inches wide at maturity. This tough annual plant tolerates heat well with regular watering, pruning and fertilizing. Salvia will become spindly with inconsistent care.
Moss Rose
The moss rose provides both interesting foliage and beautiful flowers wrapped into a hardy annual. The plant grows with a creeping habit with thick succulent leaves. Medium green foliage shelters the 2- to 3-inch rose-like blooms. Flowers open during the day and close up at night. Moss rose flowers appear in red, yellow, pink, white or orange on stem tips. This plant tolerates heat and is a favorite choice by gardeners for difficult sites featuring poor soil. Moss rose also prefers soil that features good drainage. Plant the moss rose in full sun for best flowering results. This plant responds to regular watering and requires little maintenance. This plant makes a striking annual addition to a perennial rock garden.
Celosia
The flowers of the celosia provide an intriguing addition to the annual flower garden. Blooms appear as a group or cluster of flowers with a fuzzy appearance. Flower shape can be both pointed and irregularly shaped like a cauliflower head. Colors include red, yellow, orange and pink. Flowers have a long life on the upright stems that protrude a few inches above the medium green lance-shaped leaves. Celosia tolerates full to partial sun areas to provide long lasting flowers until the first frost. This plant thrives in hot, humid locations and performs well as a cut flower in dried arrangements. Celosia reaches a mature height up to 30 inches tall and 12 inches wide.