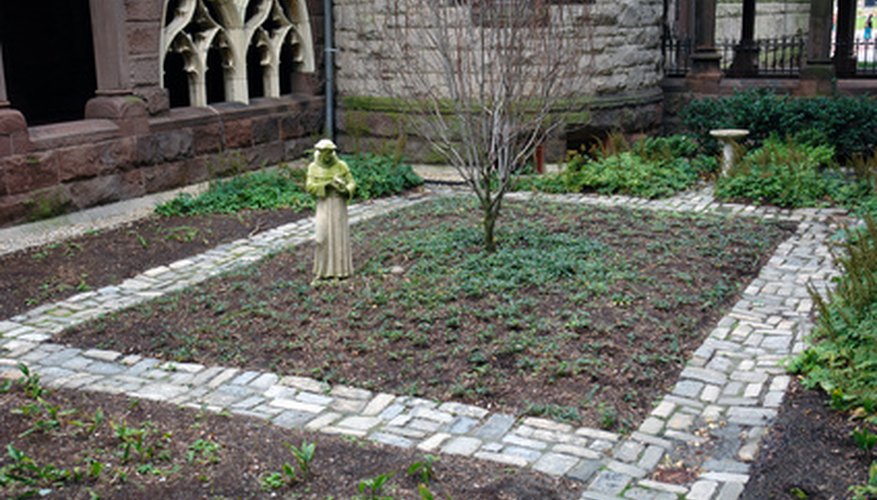 The design of a medieval garden was meant to express the ideals of spirituality and delights of the senses. Each flower, herb and tree was chosen to say something about divinity on earth. The overall layout of the garden was always formal, with straight lines and hedges. It was meant to be a place of rest and contemplation. Some medieval garden designs are complex, but you can create a simple one by following several general principles. Sketch the garden first on paper to create an overall design that has medieval spiritual symbolism.
Choose a garden space that is square or rectangular and can be enclosed by hedges or walls. Enclosure represents the earth as paradise or the structure of the entire cosmos. The balance and harmony created within the enclosure represented the ideal to which medieval religious people aspired. Medieval cathedrals were also designed on this principle.
Use the ruler to divide the garden space into four quadrants with gravel pathways between them. Medieval gardens were designed as an allegory of spiritual truths that were meant to be discovered in each flower and each garden shape. Sacred geometry was used to represent spiritual harmony in the flower beds, walkways and in the garden center. The quadrants are then further divided into flower and herb beds. Fruit trees or topiary are placed in the center of quadrants or at the outside perimeter walkways.
Draw a center circle where the quadrant pathways meet. A fountain is traditionally found there, but a basin of water is sometimes used. The water represents the eternal flow of life onto the earth. Water represents the feminine element that makes life flow. The medieval garden at Santa Clara University in Santa Clara, California, uses a center basin made in the California mission era, from 1775 to 1830. Although it does not have water, it was originally used by women to grind acorns for food.
Design each garden quadrant to contain beds of flowers, fruit trees and herbs. The medieval kitchen gardens where vegetables grew were often separated from the more formal garden. Choose herbs for their medicinal and culinary use. Fragrant flowers and foliage were highly prized in medieval gardens because they represent the delights of the senses in paradise. Flowers each have a specific meaning and were placed carefully to convey the feelings of earthy and spiritual love.