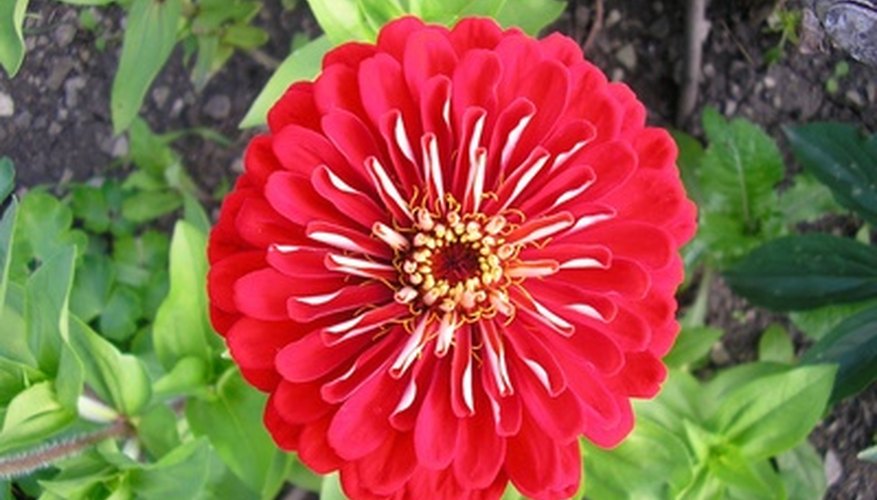 That different plants need different amounts of sunlight is a hard-and-fast rule of gardening, according to Cornell University's Home Gardening website. Most flowering plants require five or six hours of sun per day. Many full sun locations, however, suffer from dry soil. Some plants thrive in those conditions, while others will need regular watering. Understanding the differences among sun-loving plants will ensure a garden as bright as the sunshine itself.
Cosmos
Cosmos (Cosmos bipinnatus) is an easy-care annual native to the Southern United States and Mexico. Growing to 4 feet high and 3 feet wide, the plants have upright stems with lacy green leaves. From June to frost, wild plants have profuse yellow-centered, white, pink or red daisy-like flowers. Commercial cosmos cultivars are available with double flowers in a host of colors, according to the Missouri Botanical Garden. They perform best where summers are cool. Use them for cut flowers or in garden borders. Provide full sun and consistently moist, infertile soil. Removing spent flowerheads extends the blooming period.
Common Purslane
Common purslane (Portulaca oleracea) is a low, spreading annual with edible, succulent grayish-green leaves. Ornamental purslane cultivars standing 4 to 8 inches high—and up to 15 inches wide—are commercially available. On sunny days between June and frost, they bloom with 2-inch flowers in white, yellow, pink, orange or red. Purslane performs well in infertile, dry soil. Use it to edge walkways or as a ground cover, suggests the Missouri Botanical Garden. Plant in a well-drained location and full sun. Common purslane is drought-tolerant and may develop root rot where drainage is poor.
Satin Flower
Satin flower (Clarkia amoena) is a cool weather, sun-loving annual. Native to Northwestern California, it stands up to 30 inches high with lance-shaped green leaves. In June and July, it produces 2- to 3-inch flowers. Blooms on wild plants are pink, lavender or red. Double-flowered cultivars are commercially available. Use satin flower as a container, border or cutting garden plant, suggests the Missouri Botanical Garden. Give it moderately fertile, well-drained soil and full sun. It benefits from afternoon shade in areas with hot summers. Provide adequate air circulation between plants to reduce the risk of powdery mildew.
Zinnia
Zinnia (Zinnia), an aster family annual, stands 6 inches to 4 feet high. Blooming from June until frost, zinnias come in a wide range of colors, including green. Plants have erect, branching stems with green, lance-shaped leaves proportionate to their height. Creeping zinnia (Zinnia angustfolia) is a good choice for hanging baskets. Other varieties work well in beds, borders and cutting gardens. Plants may have single, double, pompon, dahlia or cactus blooms. Plant them in full sun and humus-rich, well-drained soil, advises the Missouri Botanical Garden. Watch for powdery mildew, leaf spot, blight, aphids and thrips.