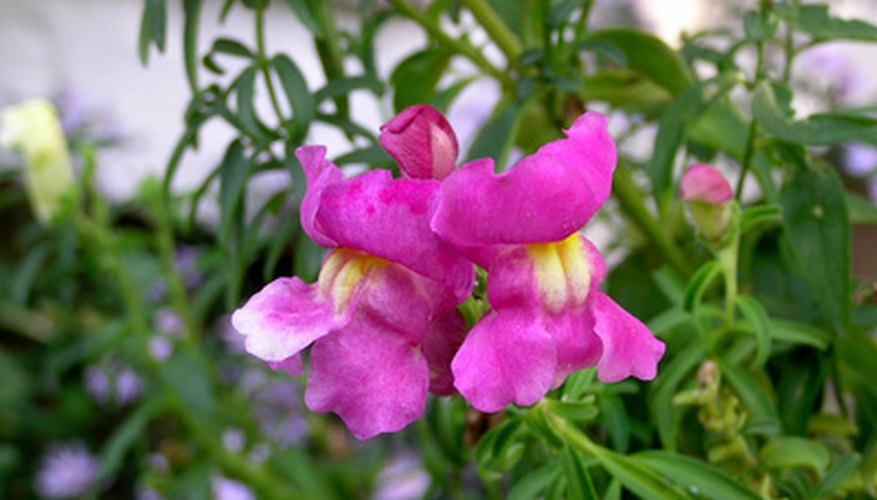 The inevitable heat of summer forces gardeners to select drought-tolerant plants for the landscape. This choice saves both the expense of watering and the need to replace struggling plants. Selecting drought-resistant flowers involves setting aside the need for a particular type of traditional plant. Instead, focus on the drought tolerance characteristics of low water use, bright sun tolerance and thick foliage to aid water retention.
Yarrow
Yarrow provides a tough plant that tolerates drought conditions. This plant produces fine, bright-green foliage that emits a light fragrance. Yarrow features white flowers grouped in tight clusters. Flower stems shoot straight upward from the loose foliage mound. Yarrow reaches mature heights of 3 feet and blooms from late spring to mid-fall. This perennial flower prefers a sun location and well-drained soil. Some cultivars of yarrow produce pink or purple flowers.
Mexican Sunflower
The annual Mexican sunflower produces daisy-like orange flowers. Mexican sunflower likes direct sun and thrives in the summer heat. Mature plants grow up to 3 feet high and feature foliage with a light hairy texture. These plants are drought-resistant as well as deer-proof due to the fuzzy foliage. Unlike many landscape plants, Mexican sunflower doesn't thrive in rich soil. This plant tolerates neglect and produces blooms throughout the summer. Mexican sunflower attracts wildlife and provides beautiful cut flowers for arrangements. Some cultivars feature red- or yellow-colored flowers. Deadheading of spent flower blooms will induce the plant to continue flower production.
Snapdragon
Snapdragons provide plenty of color in the home landscape. These plants produce a host of blooms in various shades ranging from bright yellow to deep magenta. Individual plants often contain multiple colored blooms. Snapdragons feature a unique two-lipped flower that looks like an open mouth. Petal edges feature a slight ruffle to add further interest to the bloom. This plant grows upright from a stem featuring alternating lance-shaped leaves. Snapdragon tolerates drought with enriched soil. Different cultivars feature dwarf varieties with mature heights of about 6 inches. Other varieties reach up to 3 feet high at maturity. Regular pinching back of dead blooms will induce more flowers throughout the summer.
Zinnia
The zinnia features a tightly petaled flower on a long arching stem. Zinnia flowers appear as tight buds that open to a riot of blooms in purple, red, pink, yellow, orange and white. Foliage is elongated along the length of the stem and provides little interest in the garden. This plant loves the heat and produces wild blooms in full sun. Annual zinnia grows easily from seed placed directly into the garden soil after the final frost. Cutting back dead bloom induces branching and additional flower production. Mature plants grow to heights of at least 3 feet.