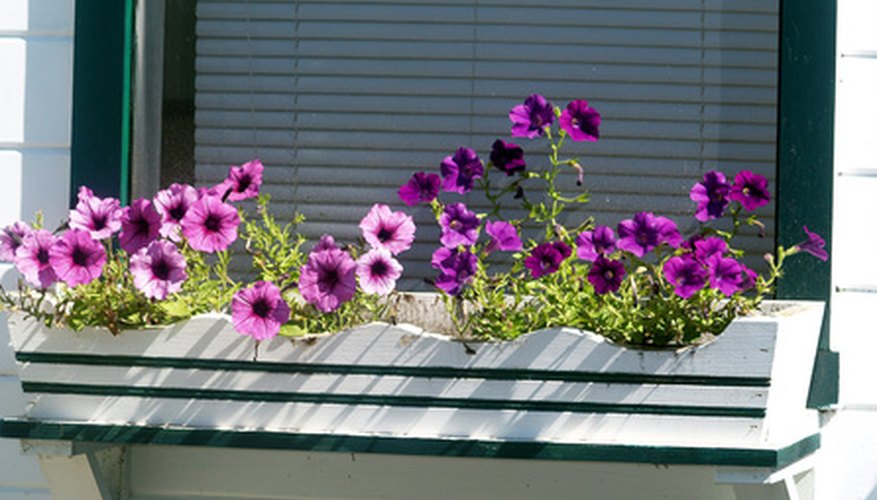 Window boxes bring flowers right to the indoor living spaces. The versatile planters attach directly below a window to provide an inviting view of flowers and foliage. Window box materials include wood, aluminum or wire-framed planters. Gardeners fill the boxes with soil to house any number of plants to decorate the exterior of the home. Consider the sun exposure when choosing the best plants for your window box.
Vinca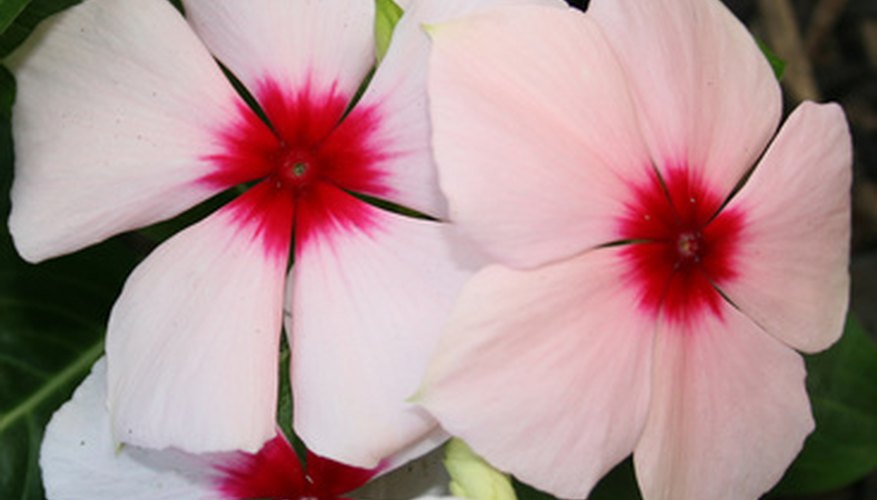 Annual vinca offers gardeners a beautiful option for a full-sun window box. Vinca features dark green, shiny foliage that provides an excellent backdrop for the vibrant flowers. Mature plants reach about 12 inches high. Flowers keep blooming regardless of the heat of summer. Vinca flowers feature a wide variety of colors, ranging from white to deep red. The flower is disc-shaped and relatively flat with five overlapping round petals. This low-maintenance annual doesn't require deadheading or pinching back to produce full foliage and additional flowers. Vinca densely fills planters and provides an excellent choice for an easy-to-grow window box plant.
Petunia
No window box would be complete without at least considering the petunia as a viable addition. Petunias feature trumpet-shaped flowers in a wide array of colors and variations. Solid-color blooms blend well the other annuals, as does the medium-green, textured foliage. Petunias like bright light and prefer well-drained soil. Don't allow the window box to become too dry or the plant becomes spindly with reduced blooms. Petunias respond well to pruning to produce fuller foliage and new blooms. This plant grows with a trailing habit that allows the plant to drape gently over the window box edges.
Ivy Geranium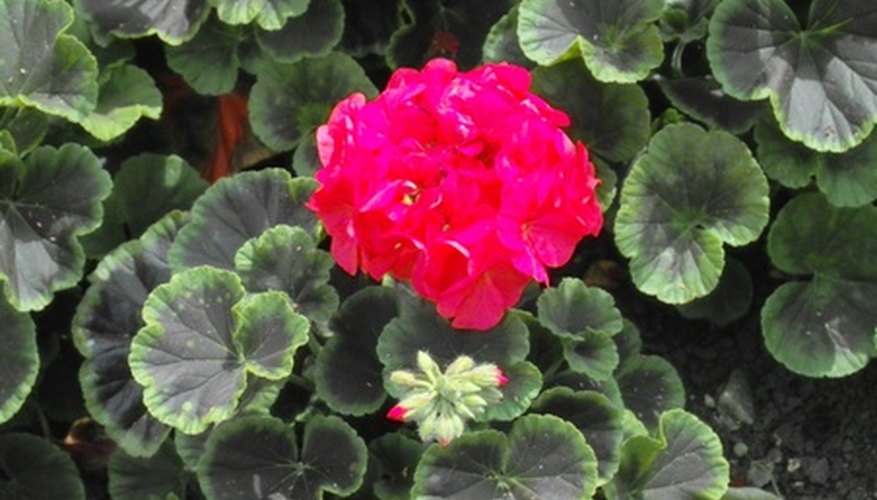 Visit any country in Europe in the summer to view incredible window boxes filled with flowers. Europeans know the secret of a beautiful window box filled wit ivy geraniums. These plants resemble traditional geraniums but grow in a slightly different way. Ivy geraniums spread faster and feature a vine growth habit. The plant features flower heads with looser blooms than traditional cultivars. Ivy geraniums differ in heat tolerance from standard geraniums. This plant works well in window boxes in partial-shade locations. Full sun in the hottest part of the summer will damage the plant quickly. Ivy geranium thrives in a container environment as long as the gardener strikes a balance in watering and allowing drying time for the soil.