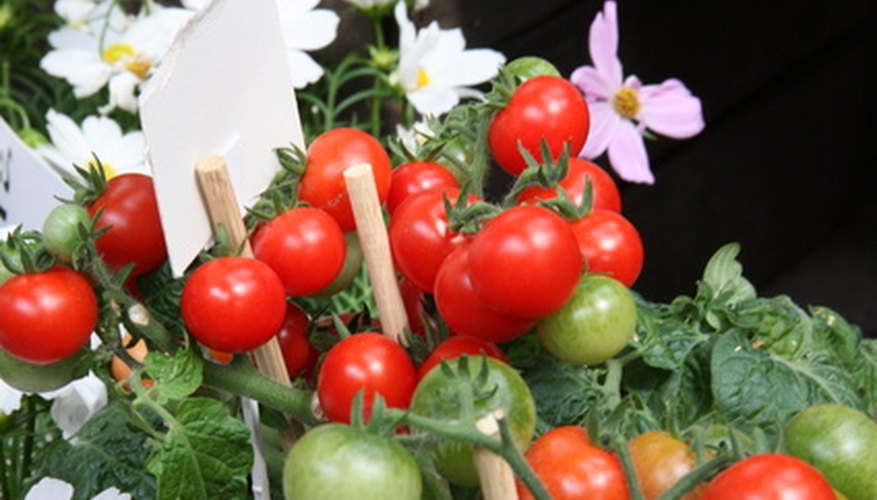 There are hundreds of varieties of tomatoes, according to the University of Illinois, and which is best for you depends partly on your climate and preferences as a home gardener and tomato-lover. Still, there are some tomato varieties that are commonly grown by most home gardeners for their disease-hardiness, ease of care, productivity and delicious taste.
Floramerica
Floramerica is a winner of the All-American Selection award. This common tomato variety ripens in 75 days. The fruit is medium to large, weighing 12 oz., and bright red. The plants are determinate, meaning they stop growing at a certain height, and resistant to many tomato diseases. All these factors make this tomato variety a popular choice with home gardeners who want an easy-care, general-purpose tomato plant.
Better Boy
Better Boy has been a popular tomato variety for a long time, according to the University of Missouri. This tomato plant is hardy and strong and produces a lot of fruit. The tomatoes do not split easily and can weigh up to 1 lb. They ripen in around 75 days.
Supersweet
This variety is commonly grown for several reasons. Supersweet is desirable for its high production. One plant can produce hundreds of cherry tomatoes, which are widely known to be very sweet and tasty, according to the University of Missouri. This variety grows unchecked and more like a vine than an upright plant. The tomatoes ripen in about 65 days.
Delicious
Delicious is a favorite with home gardeners who want to grow eye-catching large tomatoes. This variety became commonly grown after it produced the world-record holding tomato, at over 7 lbs. This variety grows unchecked and produces very large tomatoes, although they may be scarred or split open. The fruit ripens in around 77 days.
Celebrity
Celebrity is commonly grown because it is resistant to all four major tomato diseases. It is also a determinate grower, meaning that it will stop growing at a rather short size and may not require support. The tomatoes are smooth, firm, bright red and average around 8 oz. The plants are very prolific producers of tomatoes, which ripen in around 70 days.