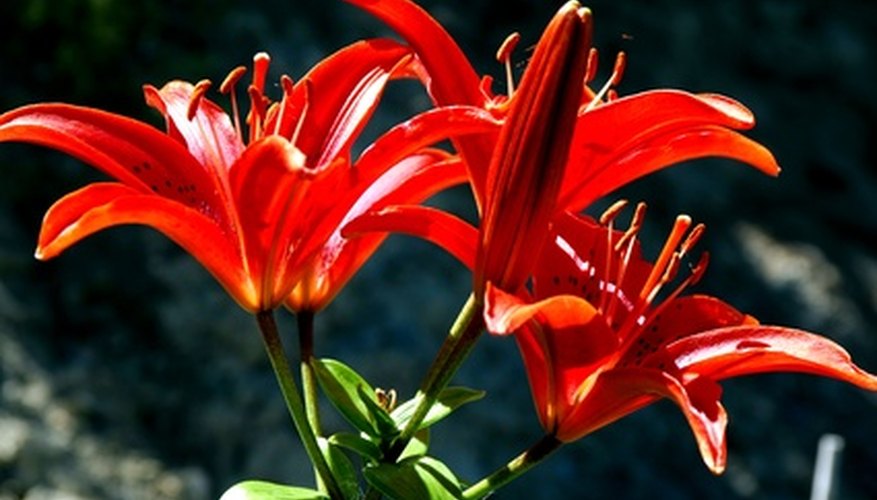 Asiatic lilies are hybrids. These lilies are distinctive for their smaller, star-shaped flowers that face upward or outward. Most also have no fragrance, unlike the larger Oriental lilies, according to the University of Massachusetts. There are many varieties of Asiatic lilies. These hardy flowers come in shades of yellow, orange, cream and pink and will bloom all summer long with proper care.
Gwyneth Evans
Gwyneth Evans was developed by botanists in Alberta to be resistant to cold weather, including wind and rainy conditions. This hardy variety is also disease resistant. The color is a delicate light peach with darker freckles. Gwyneth Evans is a heavy bloomer, producing blooms in July that last all summer long. This variety averages about 2 feet in height.
Bali Hai
"Bali Hai" is a tall, up to 4 feet high, variety of Asiatic lily. This pink flower has a darker pink center lightly speckled with dark rose freckles. Bali Hai is also hardy and long lasting. It blooms in late June.
Enchantment
This bright orange variety is one of the earlier blooming Asiatic lilies, according to the University of Minnesota. Enchantment can produce flowers as early as the beginning of June. These lilies can reach a height of 3 feet.
University of Saskatchewan
This rare Asiatic lily was developed specifically for the University of Saskatchewan in honor of the school's 100th anniversary. The lily bears the University's colors of gold and white, with a hint of green at the center. The lily blooms in July and reaches an average height of 2-1/2 feet. It is one of the cold-hardiest varieties of Asiatic lilies.
Jolanda
Jolanda features bright-red flowers perched atop long, slender stems lined with thin leaves. This lily can reach heights of 5 feet and are particularly stunning along a fence. They may need to be staked in windy areas. Jolanda flowers in late July.
Golden Pixie
Golden pixie is a dwarf variety of Asiatic lily. These are being bred for container growth, according to Iowa State University. Golden pixie has an average height of 1 foot and is a golden yellow color. Outdoors, golden pixie blooms in July, but many potted lilies are cultivated indoors where they can bloom at any time during the year.