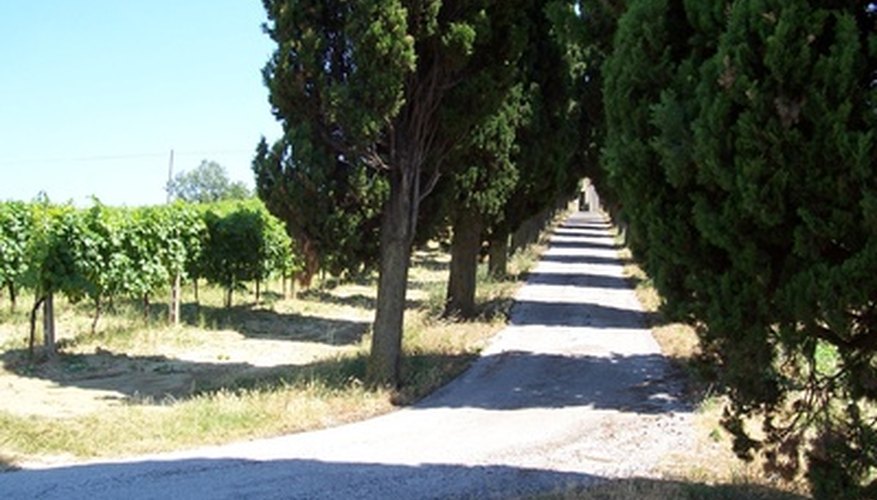 Italian cypress, also known as Cupressus sempervirens, is an evergreen native to the Mediterranean that efficiently provides an aesthetic beauty to parks, gardens and landscapes. At maturity this variety can reach a maximum height of 60 feet and grows in a column-shaped formation. The fast-growing Italian cypress is best grown in USDA hardiness zones 7 through 11. Even though this tree grows very tall, it only has a diameter of about 6 feet wide. When landscaping with an Italian cypress, several different styles are available, especially since the tree can be planted in clusters or in narrow spaces.
Create a frame with Italian cypress trees for a focal point or elegant entryway. Italian cypress trees can also be used to surround a large area such as a park or field, or used as a privacy wall around a house. These trees can easily be planted in clusters of two to three.
Create a windbreak with Italian cypress as protection for delicate flower, vegetable or fruit gardens. Italian cypress can create a shaded area where there would otherwise not be one, so it is perfect for those who want specific gardening conditions during hotter seasons.
Fill in narrow landscape spots with Italian cypress trees. Since they only grow to about 6 feet in diameter they can be placed in tight spots that would benefit from high foliage.
Plant a single Italian cypress tree as the focal point in a formal landscape, such as formal gardens or parks. Add tailored shrubbery, statues, or embellishments such as fountains or pottery. Mimicking European gardens is ideal for Italian cypress tree placement.
Line pathways or roads with Italian cypress for an elegant, tailored appearance, setting them either close (for a more private appearance) or about 10 feet apart (for a view that provides more depth).