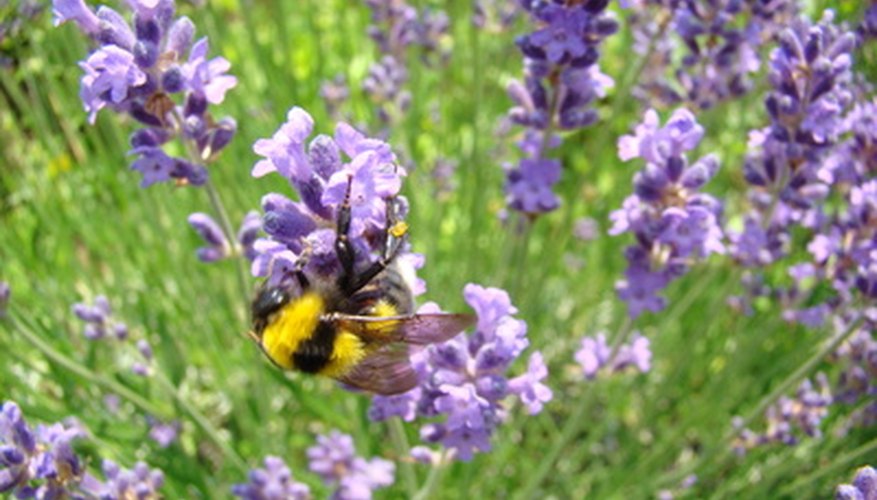 Lavender plants originated in the mountain regions of the Mediterranean. The name lavender comes from the Latin word "lavare" that means, "to wash." Used in baths to cleanse both the mind and body, lavender oil is also used in cooking, perfumes, soaps, cosmetics, aromatherapy. Lavender flowers are often used for decorating or creating sweet-smelling sachets.
The Non-English Lavenders
The non-English lavender species begin blooming in the beginning to the middle of spring. These types of lavenders grow best in USDA hardiness zones 8 to 10. This group of lavenders species consists of Spanish lavender with dark green leaves, French (ever-blooming) lavender that produces gray leaves and yellow lavender, which features yellow-green leaves and flowers. Sweet lavender has the greenest leaves, the largest mature size and is the fastest growing species. Other non-English species of lavenders include the drought-tolerant woolly and the two hybrid French lavender species: Allardi and Goodwin creek gray lavender.
The English Lavenders
English lavenders (Lavandula angustifolia) start to bloom from the middle to the end of spring, and grow best in USDA hardiness zones 5b through 8. The flowering ends by early summer, but the leaves of English lavender plants emit exotic fragrances to the end of the season. Species of lavenders in this group include English, Vera, Sarah, Hidcote Pink, Hidcote, Munstead and Jean Davis lavenders. Vera lavender often referred to as "true" or "fine" lavender is believed to be the true English lavender and is the best for aromatherapy and medicinal uses.
The Lavadins
Lavadin (Lavandula x intermedia) are English lavender hybrids that begin to bloom in the beginning of summer and continue until the middle of summer. These species of lavenders produce fragrant blossoms in vivid colors, long gray leaves and lavadins grow both faster and larger than other species. Lavender species in this group include Provence, Grosso, White Grosso, Abriali, Hidcote Giant, Fred Boutin, Seal, Grappenhall and Dutch Mill. White Grosso lavenders harmonize well with other lavender plants in various hues of purple.