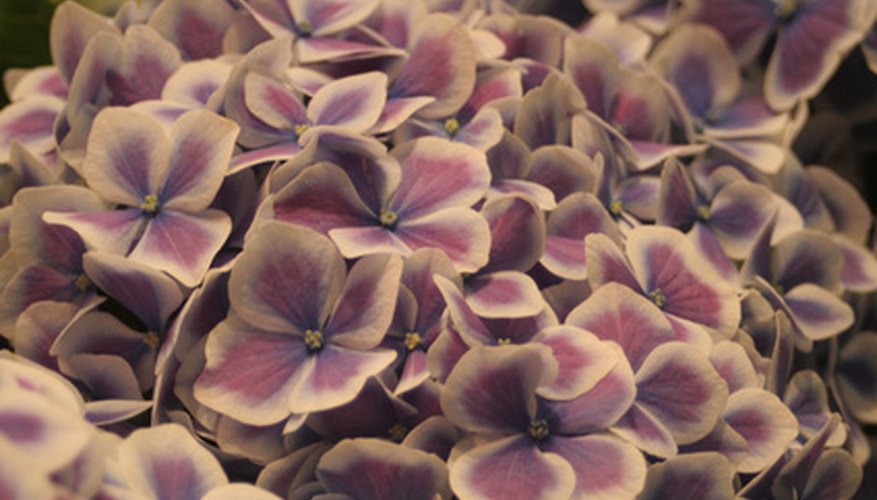 If you love potted hydranges as a house plant or as a mounded shrub in shady reaches of the garden, consider the newly developed mophead hydrangeas that are collectively part of the Halo Hydrangea™ series. They grow to a mature height no more than 3 feet tall and 3 feet wide. Plant them outdoors in USDA Plant Hardiness Zones 5b through 9a.
Origin
Halo Hydrangea™ plants are derived from mophead or French hydrangeas (Hydrangea macrophylla), which are deciduous shrubs native to Japan.
History
The controlled plant breeding by Hiroshi Ebihara at a commercial nursery in Tochigi-Prefecture, Japan led to the development of the plants known as "Halo Hydrangeas™" according to the U.S. Patent and Trademark Office. The breeder directed numerous genetic crosses of cultivars of mophead hydrangeas from the mid 1980s to the mid 1990s. The plants were grown from seed after pollen from one hydrangea was deliberately placed on the female blossoms of another plant, yielding the viable seeds.
The Halo Hydrangea Series
Seven different hybrid mophead hydrangeas selected by Hiroshi Ebihara were registered, trademarked and marketed jointly with the American commercial plant produces Hines Horticulture. While each variety in the series has a legitimate cultivar name, it is more commonly known and sold using its trademark name:
Hydrangea macrophylla 'Frau Kinue' (Angel Robe™ hydrangea) Hydrangea macrophylla 'Frau Mariko' (Angel Wings™ hydrangea)
Hydrangea macrophylla 'Frau Nobuko' (Angel Smile™ hydrangea)
Hydrangea macrophylla 'Frau Reiko' (Angel Lace™ hydrangea) Hydrangea macrophylla 'Frau Sachiko' (Angel Eyes™ hydrangea) Hydrangea macrophylla 'Frau Taiko' (Angel Song™ hydrangea) Hydrangea macrophylla 'Yoshimi' (Angel Star™ hydrangea)
Features
Halo Hydrangeas bear large, snowball-like flower clusters with sepals colored white, blue, lavender, grape, maroon or pink. What sets this series of hydrangeas apart from other mophead hydrandea varieties is the picotee pattern and bi-colored combinations. "Picotee" refers flowers that look like bullseyes--a dark colored center with an edge of contrast lighter color. These deciduous shrubs bloom from spring to fall.
Growing Requirements
Grow these mophead hydrangeas in a moist, organic-rich soil that drains well after irrigation or rain. Plant them in partial shade where they will receive very bright but indirect light with only limited exposure to sun--no more than 4 hours across the day. Soil pH affects flower color intensity. Acidic soils tend to create blue flower colors, while neutral to lightly alkaline soils accentuate pink pigments. The amount of lavender, purple, red, or maroon tones also varies by soil pH according to each Halo Hydrangea™ variety grown. Highly alkaline soils can cause the dark green leaves to develop yellow tones, the result of nutrient deficiencies.