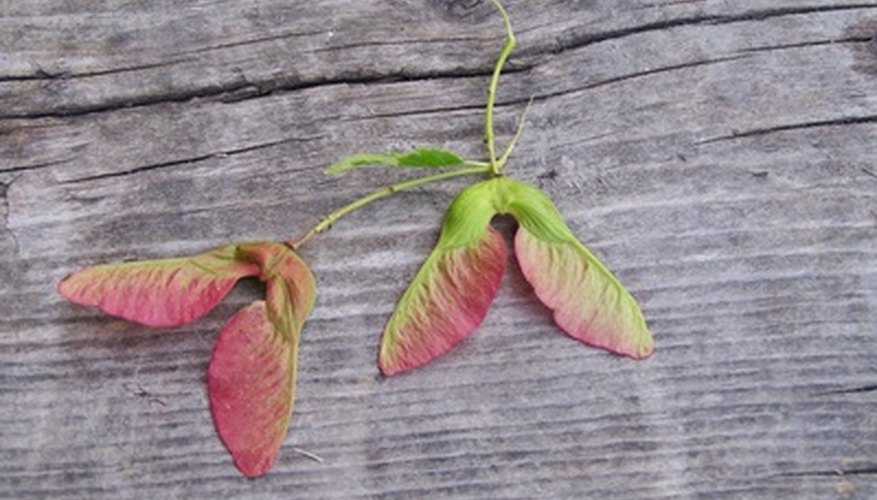 Maple trees propagate through small seeds, that many people call helicopters. The seeds can travel a great distance if the winds catch the seeds just right. According to the North Dakota State University Extension Service, maple trees will generally drop many seeds during the early portion of the year, right after spring flowering. Killing the maple seedlings in the lawn may only require general lawn maintenance.
Maintain your lawn to keep it healthy. Mow the lawn regularly at the correct height for the grass species. In most cases, set the height of the mower at 2 to 3 inches. Regular mowing stimulates lawn growth and reduces the chances for the maple seedlings to establish themselves.
Fertilize the lawn several times during the growing season. A healthy turf grass will choke out most weeds, including maple tree seedlings.
Irrigate the lawn on an irregularly. Lawns that are irrigated without a routine schedule tend to have fewer weeds and healthier grass.
Apply a tree seedling herbicide if the above steps fail to remove the maple seedlings from the lawn. Follow all application rates on the product label. Unless the herbicide is specific for tree seedlings, damage will occur to the lawn and other plants.
Things You Will Need
Lawn mower

Lawn fertilizater

Sprinkler

Herbicide
Warning
Keep children and pets from any area treated with a chemical.