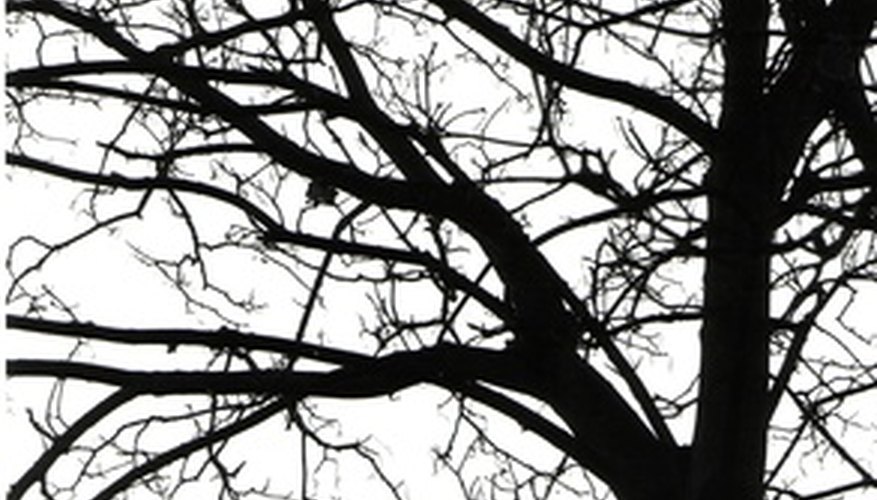 Dormant fruit trees still require care, especially during the winter months. According to the University of Nebraska, proper winter care to fruit trees will be directly associated with summer fruit harvests. The tasks may not be much to perform, but the few hours spent in the home orchard will be well worth the effort come the next harvest time.
Clean around the fruit tree using the leaf rake. Remove rotten fruit, fallen leaves and all foreign debris from beneath the tree. Collect all material. Move the material to a distant composting pile.
Prune the fruit tree of all dead and broken limbs. Follow a recommended pruning schedule for your particular fruit tree. Contact your local agricultural extension service for bulletins that concern specific species of fruit trees and pruning. Remove all limbs to the distant compost pile.
Apply the correct amount of fruit tree root fertilizer around the base of the tree. Do not allow any of the fertilizer to touch the trunk or exposed portions of the tree. Follow the label directions for application rates according to the tree type, size and age.
Cover the lower trunk with a protective covering of either hardware cloth or poultry netting. The metal wire mesh will protect the tree from gnawing rodents. Remove the wire mesh from the tree trunk in early spring, when the buds begin to break open.
Apply a generous coating of dormant oil spray to every portion of the tree trunk and upper limbs. The oil spray will suffocate any residing insects eggs on the tree. Spray until the limbs drip with the liquid. Apply the spray in early morning when temperatures are above freezing.