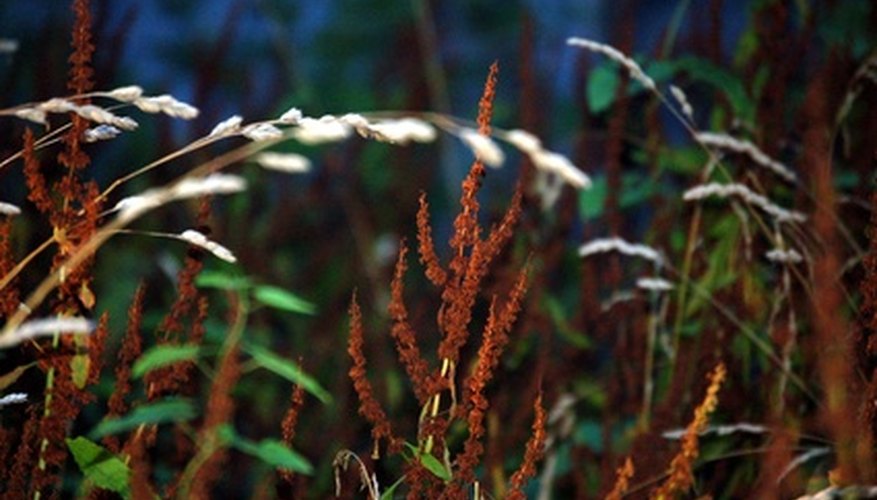 Herbicides are used to kill weeds in lawns, driveways, and in between the cracks of wood or concrete. Some herbicides come in a granular form, which allows you to simply sprinkle the weed killer on the lawn. Other herbicides come in a liquid form. A liquid weed killer will either say "Ready to Use" or "Concentrate." A concentrated liquid weed killer will need to be mixed correctly with water before it can be sprayed on your weeds.
Read the product label completely before using your weed killer. This is a strong chemical that can cause harm to humans and pets if it is used incorrectly.
Put on the safety gear advised on the product label of the weed killer you purchased. This usually includes wearing long clothing, boots, gloves, goggles and a mask.
Make sure you are using the weed killer on a day with little to no wind, no rain, and with temperatures that do not reach above 90 degrees F.
Determine how many square feet of lawn you need to cover. Locate the amount of fluid ounces you need from the weed killer's product label to cover the total square feet of your lawn. For example, if you need to cover 1,200 square feet, and the product label says to use 3 fluid oz. for every 400 square feet, then you need to use 9 fluid oz. of the concentrate. Pour the concentrate in your garden sprayer.
Add the amount of water listed on the product label that corresponds with the amount of concentrate you used to the garden sprayer. For example, if the product label said to use one gallon of water for every 3 fluid oz. of concentrate, you would need three gallons of water for your 9 fluid oz. of concentrate.
Put the lid on the garden sprayer and shake the sprayer to mix the two ingredients together.
Things You Will Need
Weed killer product label

Long clothing, boots, gloves, goggles, mask

Water

Garden sprayer
Tip
Wait a few days after you mow your lawn before you apply the weed killer. Weed killer is absorbed through the weeds' leaves, so if there are little to no leaves, the product won't absorb properly.
Warning
Have your children and pets remain indoors until the weed killer has dried completely.