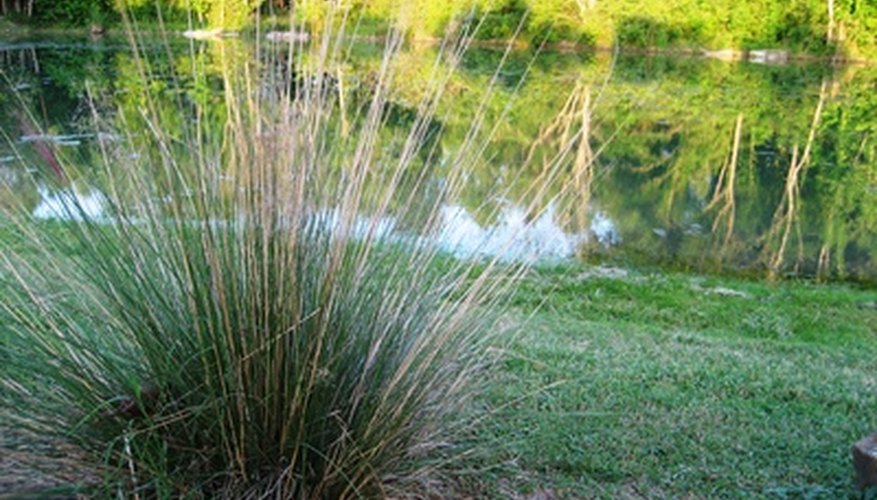 Ponds provide rest for the eye, allowing for an untarnished area in the garden where one can allow their thoughts to wander. Not all plants can survive in the water logged soils next to a pond, but it's well worth the effort to find a few that will thrive in moist to wet soil.
Rose Mallow
Rose mallow (Hibiscus moscheutos), also sometimes called wild cotton, is a species of hibiscus native to North America. A wetlands plant, rose mallow thrives in wet, water-logged soils. Rose mallow is notable for its flashy blooms, which appear in summer and autumn and are available in a range of warm colors depending on the cultivar. The plant also has lush, rich green foliage that will stand out well against a pond. Rose mallow is best cultivated in full or partial sunlight in USDA Hardiness Zones 6A to 9A in a neutral loam. Rose mallow is ideal for those looking to attract butterflies to the pond's edge.
Cinnamon Fern
Cinnamon fern (Osmunda cinnamomea) is a perennial native to wet areas throughout the Americas from the Southern United States down through Central America into South America. The plant boasts lush, greenish-yellow foliage and an erect, upright habit. The plant grows best in dappled sunlight in USDA Hardiness Zones 3 to 10, though if grown near a pond it will probably do just fine in full sun. The plant prefers a humus rich soil if possible. Cinnamon fern has a long history of use in the United States as a medicinal plant for the Native Americans, as well as a food source. The tips of the fern's leaves can be cooked and eaten as a vegetable.
Mexican Petunia
Easy to grow and fast growing, Mexican petunia (Ruellia brittoniana) is a bushy perennial native to Mexico. The shrub-like plant produces long, green leaves and floppy flowers, which can be white, purple or a vibrant shade of blue. Mexican petunia grows best in USDA Hardiness Zones 8 to 10, as well as Zone 7 if properly mulched. The plant will tolerate partial sun and full sunlight, and a rich soil is ideal. Mexican petunia thrives in water-logged soils and will take off if grown near a pond. The plant is considered invasive however in some areas, so be sure to consult an invasive plant list before propagating the plant.