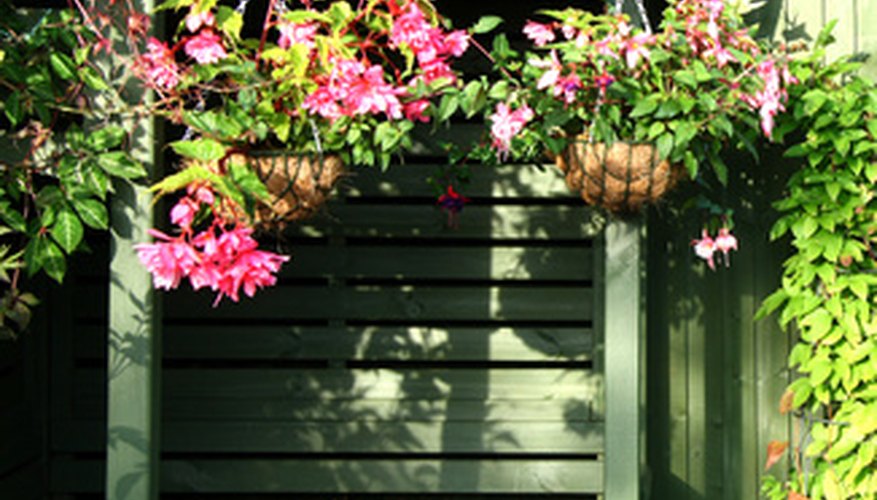 Hanging baskets of flowering plants can transform a patio, deck, trellis, porch, wall or fence into an immediate extension of the garden. Elevating the flowers makes them more visible--and in a small garden, extending your garden vertically can actually give you a larger garden. Considerations should include the size of the planter, the weight of a planter when watered and locating a planter where it is visually stunning but not in a position where it will hit people in the head or be bumped by passers-by.
Water your planter and weigh it wet. Use a screw eye rated to carry the load of your wet planter. Drill a hole in a sturdy overhead beam of a porch, patio or covered deck, trellis or any structure with overhead beams. Screw the rated screw eye into the beam. When the screw eye becomes hard to turn, insert the metal end of a screwdriver into the hole and use the leverage of the handle to screw the eye all the way to the wood.
Hold the plant up to the screw eye and adjust the height, if necessary. Use an S-hook to shorten existing chains. Add a length of chain to make the planter hang lower. The planter should be in a semi-protected location where it won't be bumped and it should be easy to water daily. Hang your planter by securing the hook to the screw eye or by using an S-hook to secure the chain to the screw eye.
Mount a shepherd's hook bracket to a post, wall or any vertical surface. Position the bracket high enough so that the plant will hang at the correct height. Drill holes into hard wood and use galvanized or exterior screws and bolts to screw the bracket into place. Note the weight limit for the hook and select a plant within the weight limit. Adjust the hanger height, using S-hooks and additional chain as needed. Cut the chain with bolt cutters, if needed.
Position hanging plants in a garden bed by placing a sharpened shepherd's stake post into the ground. You may need to pound the stake with a mallet. Position the stake so that the hanging plant will not overhang a sidewalk or path. Select a plant sized for the weight load of the hook.