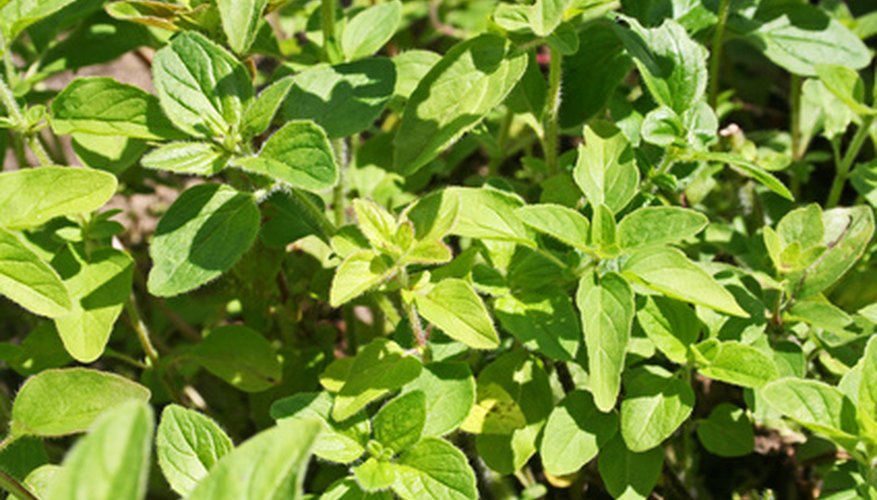 Fresh herbs and spices add color and flavor to dishes that are different from the colors and flavors added by dried culinary herbs and spices. Many of the herbs and spices available in many supermarkets are very easy to grow. Herbs can be grown from seed or from young nursery plants.
Oregano
Oregano is a perennial that is cold hardy down to United States Department of Agriculture (USDA) Hardiness Zone 6. Although it does best in full sun, it will tolerate partial shade. While fertile soil is not required, oregano grows best aided by fertilizer and mulch. The best soil for oregano drains well. Oregano grows to between 6 and 24 inches tall, blooming with small white flowers. The plant's herb leaves tend to be most usable before and after flowering. Oregano grows well both in the ground and in containers.
Sage
Sage is a perennial that is cold hardy down to USDA Hardiness Zone 5. There are two types of sage: The herbal variety and the variety native to the western United States. Although similar, the native sages can sometimes have a turpentine flavor and are not good as herbs. Sage requires full sun and good, rich soil. Sage can grow equally well in containers or in the ground.
Rosemary
Rosemary is usually grown as an annual in colder climates. It is perennial in USDA Hardiness Zone 8 and warmer. Some varieties can be cold hardy down to Zone 7. A member of the mint family, this herb grows well both in pots and in the ground. It requires full sun and can winter over in pots if kept in a sunny window.
Savory
Savory is an annual. This bushy plant grows best in full sun and soil that is rich in organic matter. As an annual, you can sometimes grow this plant indoors in pots for fresh herbs over a long winter.
Thyme
Thyme is a cold hardy perennial that can winter over in zones as cold as USDA Hardiness Zone 4. Thyme needs full sun and soil that drains very well. The herb grows well both in containers and in the ground. If growing thyme as a perennial, clip it back each spring to encourage new growth.