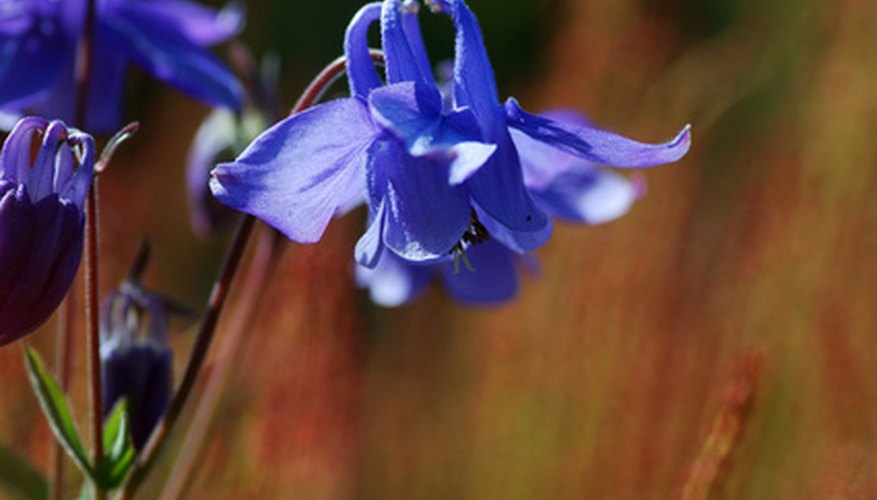 Perennial flowers are those that grace the garden with new flowers every year, dying back in the winter only to emerge again with blooms that are both familiar and new. Gardeners who are looking for low-growing perennial flowers have a range of colorful and low maintenance options to choose from.
Mexican False Heather
A member of the loosestrife family, Mexican false heather, also called Hawaiian heather, is a low-growing perennial that rarely reaches heights above 2 feet. A native of Mexico, the evergreen subshrub is notable for its brilliant purple flowers, which pop out against the plant's bright green foliage. Mexican false heather is easy to grow in USDA zones 9 to 11. The plant will look best if allowed to grow in dappled sunlight in a well-drained, fertile soil. Using a slow release fertilizer in the spring, summer and late winter will yield the best looking flowers. Mexican false heather responds well to pruning, and can be shaped into a compact little shrub.
Dwarf Columbine
Reaching a maximum height of between 5 and 11 inches, dwarf columbine (Aquilegia flabellata) is a diminutive perennial that will fit into a small spot in the garden. The plant boasts dark green foliage accented by box shaped flowers, available in colors ranging from purple to white or lavender, depending on the cultivar. Dwarf columbine is well suited for cultivation in USDA zones 3b to 9a, in partial shade or full sunlight. The plant is quite adaptable to different soil types, though a sandy, well-drained loam is ideal. Dwarf columbine is excellent for coastal gardens, as the plant is moderately salt tolerant.
Purple Heart
A member of the spiderwort family, purple heart (Tradescantia pallida ) is a low-growing, easy-to-maintain perennial that is commonly used as a ground cover. Rarely growing above 1 foot, purple heart sports deep purple succulent foliage accented by pale pink, three petaled flowers. Purple heart is a native to eastern Mexico, and does best in the warm temperatures found in USDA zones 8 to 11. Purple heart should be planted in full sunlight, in a rich, sandy soil, for best results. Though moderately drought tolerant, the plant should be watered regularly to promote healthy foliage and flowers.