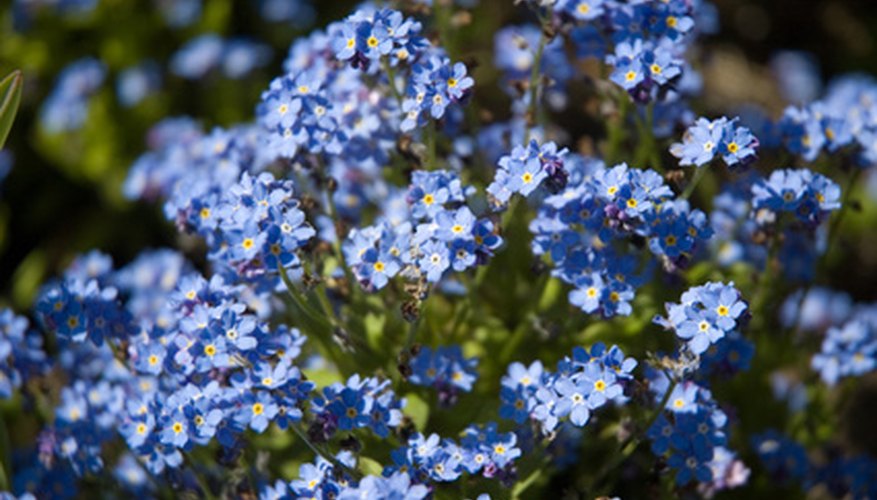 Use blue flowering shrubs any place to create a peaceful feeling. The color is welcoming when the shrub is planted near the front door, pops out when planted in front of tall white-flowering plants and comes in sizes to fit any situation. Deciduous or evergreen, short or tall, light or dark blue, tinged with touches of purple or lavender, each one is different and together or mixed with other blue plants, makes a multi-shaded blue garden.
Types
Plumbago, also known as leadwort and skyflower, produces flowers in various shades of blue that bloom in spring, summer and fall. Bluebeard features amethyst blue flowers that bloom from July through September. Golden dewdrop, also known as pigeonberry and skyflower, is an evergreen plant with light blue flowers producing fruit that is poisonous to humans.
Dimensions
Plumbago grows from 3 to 10 feet tall and about the same in width. Bluebeard measures from 2 to 2 1/2 feet tall and 2 to 3 feet wide. Golden dewdrop grows to 18 feet tall and wide.
Features
Plumbago produces light yellow-green, oblong leaves 2 inches long with 1-inch-long, tube-shaped flowers growing in clusters 6 inches across at the tips of the stems. Bluebeard features golden egg or lance-shaped leaves measuring up to 1 1/2 inches long and flowers that grow in clusters. The egg-shaped leaves of the golden dewdrop measure 1 to 3 inches long, the clusters of tube-shaped flowers blooming almost all year in clusters and followed by tiny, yellow fruit growing in hanging clusters.
Environment
A sub-tropical plant from South Africa, plumbago likes light, sandy, well-drained soils with a low lime content. Flowering best in full sun, the plumbago is hardy in USDA zones 8B to 11. Bluebeard is hardy in zones 5 to 9. Plant in full sun and moist, well-draining soil. Wet soils cause crown rot. Golden dewdrop, a native of the West Indies and Central and South America, is hardy in zones 9 to 11 and needs full sun and moist soil.
Uses
Use plumbago in borders, as a foundation, as a container plant, in a butterfly garden or let it sprawl along the ground. Plant bluebeard as a border or hedge or in mass plantings. Golden dewdrop works as a specimen shrub, hedge or windbreak and in a butterfly or hummingbird gardens.