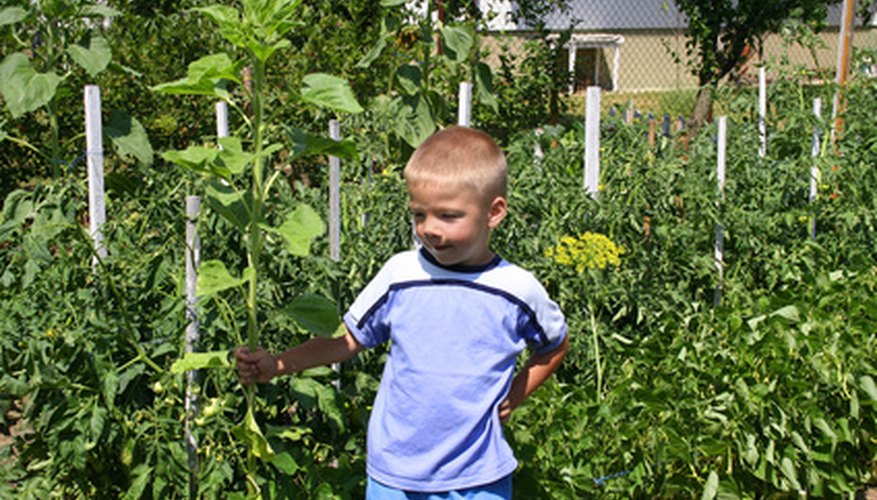 Gardens provide a learning opportunity for students at all levels. Young students learn the basics of plant growth, and the garden provides a working scientific laboratory for older students. Urban students discover the effort that goes into food production, and rural students can explore the garden as an art form. Make the experience relevant for your students by designing the garden to provide age and culturally determined challenges.
Vision
The Chicago Botanic Garden suggests that vision should precede goal setting in school garden planning. Along with analyzing the site, assessing resources and brainstorming goals, decide what kind of garden will challenge students to relate to plants in a completely new way. Encourage students to create their own vision by using their skills to photograph, draw, describe or otherwise document the process of growing their garden. Invite a chef to come in and prepare a meal with fresh ingredients to give kids a concrete preview of vegetable garden project goals or visit the native collection at a botanic garden to sense the art and science of native flowers. Visit a local garden club garden so that students can sense the passion of an enthusiastic gardener.
Group Experience
Studies cited by the National Gardening Association (NGA) establish that school garden projects help children develop social, life and communication skills and increase abilities to cooperate and function effectively as a member of problem-solving groups. Divide the class into smaller groups for preparatory work and combine groups as the project progresses to help kids work from smaller, more familiar types of groups to the larger society. Enrich the group experience by involving other adults as participants; involve interested parents in planning and establish weekend extracurricular sessions so they can participate in its execution. Enlist local nursery owners, farmers or horticulturists to serve as real-life advisors and participants. Establish the idea of social continuity by having students put seeds produced by this year's plants in a "time capsule" with journals or art from this year's garden.
Resources
In addition to local resources, look for help from businesses and nonprofit organizations. The National Gardening Association offers information and, with partner Home Depot, small grants for garden projects. NGA also acts as a clearinghouse for grants for vegetable, native plant and other garden projects. Dozens of nursery partners join with the Lorie Otto Seeds for Education grant program of Wild Ones, a nonprofit organization dedicated to native plants. Check out state resources, too. The California School Garden Network provides a complete online program, Gardens for Learning. Wisconsin's Department of Human Services offers a program called "Got Dirt?" Many states have similar resources and some provide grants for projects within their states.