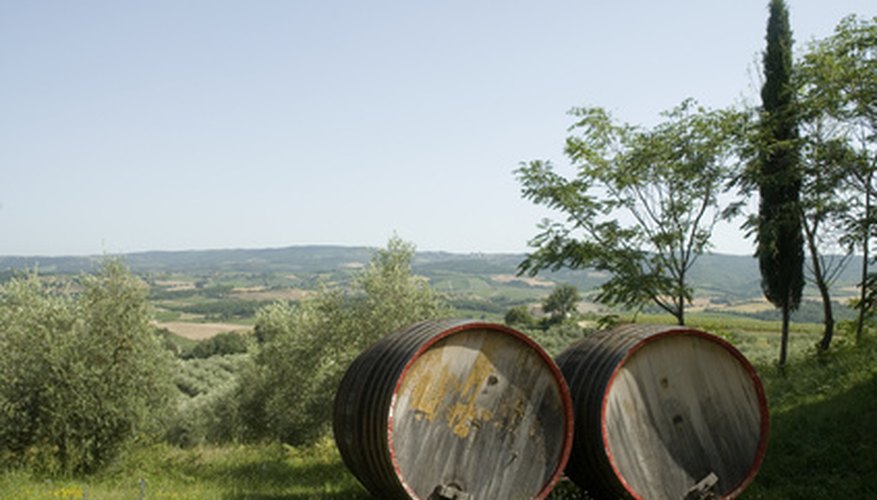 If you live in a climate with mild winters and warm, dry summers, like that in most of Italy, it makes perfect sense to borrow some of its timeless and natural landscaping. On the whole, Italian gardens focus less on flowers and more on evergreen foliage, garden structures and herbs. The concept of the garden room originated in Italian hilltop villas in the 16th century.
Cypress Trees
Tall cypress trees characterize the Italian landscape. A variety of Italian cypress, cupressus sempervirens, are available that grow up to 60 feet tall. False cypress, or chamaecyparis, are also widely available in more than 30 varieties, ranging from those that grow as large as Italian cypress to those that are dwarf varieties from 3 to 5 feet tall. You can also grow false cypress in large urns or containers, which are typically seen in Italian landscapes and are oftentimes pruned into small or large cone shapes.
Olive, Orange and Palm Trees
Olive trees are seen throughout Italy either singularly or in large orchards. If space allows, having one of these attractive trees with its small oval leaves and sweet fragrant blossoms will give you both the sight and the smell of the Italian countryside. So too does the orange tree. This tree is available in dwarf varieties that, like cypress, are frequently planted in large urns or flowerpots. Any type of low palm tree would also bring a Mediterranean feel to the landscape.
Other Plants
The dry soil and hot climate of Italy lends itself to plants that do well in arid conditions. The Life in Italy website recommends agave and aloe or other cacti to add large structural plantings to your Mediterranean landscape, as well as smaller plants like lavender and roses. In fact, any type of herb, such as rosemary, basil, thyme or sage, can be tucked into garden beds or containers.
Garden Structures
Many Italian landscapes take advantage of the rolling hills, grapevines or coastal waters in their environment. Landscaping features like arches, arbors, pillars or pergolas will allow you to do the same, by framing a central feature. Focus on a natural feature like a sculpted cypress, or create your own focus by adding a fountain, statue or large planted urn.
Resources