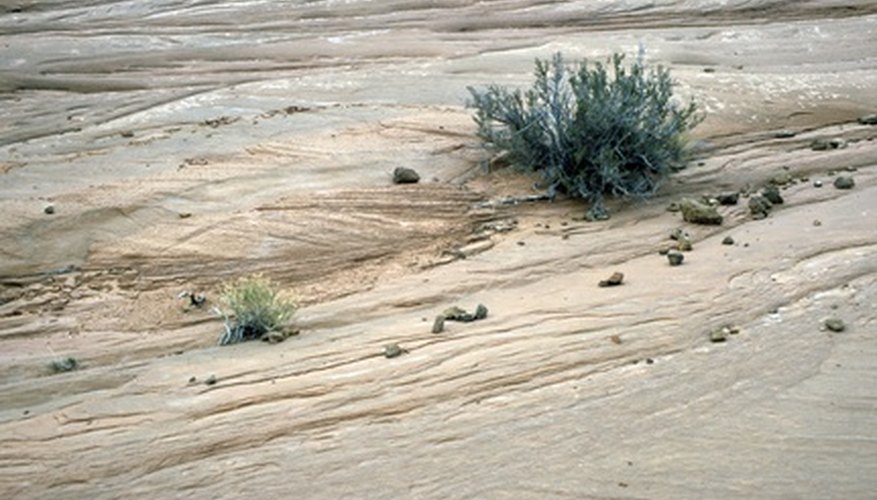 sage bush on eroding sandstone, Utah image by Lars Lachmann from Fotolia.com
Encompassing arid desert, sandy coastlines, and lush tropical jungle land, Mexico is a biologically diverse country that boasts myriad plant, tree and flower species. There are a number of common Mexican plants that can be cultivated with a little care in home gardens spread throughout various climate zones.
Mexican Petunia
Mexican petunia (Ruellia brittoniana) is a perennial evergreen notable for its vigorous, fast-growing tendencies. A common sight in its native Mexico, as well as many regions throughout the United States, Mexican petunia can be cultivated with ease in USDA zones 8 to 10. The plant sports long, green leaves accented by silk flowers in a range of blue colors, from lilac to purple and blue-tinged white. The plant does best in part shade to full sunlight, in fertile, moist soil. The plant is highly tolerant of wet conditions and will grow in water-logged soil. Mexican petunia is considered invasive in some states, so check an invasive plant list before cultivating the plant.
Mexican Blue Palm
Mexican blue palm (Brahea armata) is a species of palm tree native to Mexico and the southern United States. The plant boasts large greenish yellow palm fronds and stout trunk. The plant is one of the more shade tolerant palm species, and will grow in full shade to full sun in USDA zones 9A to 11A. Mexican blue palm requires a well-drained, sandy soil, though it will survive in just about any soil pH, from acidic to alkaline or neutral. The plant should be watered on a regular basis. This salt-tolerant plant is ideal for coastal gardens, though it may not be able to grow directly on the beach.
Mexican Bush Sage
A member of the mint family, Mexican bush sage (Salvia leucantha) is an evergreen sub shrub notable for its show of purple and white blooms, which appear sporadically throughout the summer before putting on a colorful, long-lasting display in autumn. A native of Central America and Mexico, Mexican bush sage can be cultivated in USDA zones 8 to 10. The plant does best in full sunlight (though afternoon shade is tolerable) in a well drained, sandy soil. The moderately drought tolerant shrub only needs an occasional watering. The shrub is ideal for wildlife gardens, as the soft flowers will attract scores of butterflies, bees and birds.