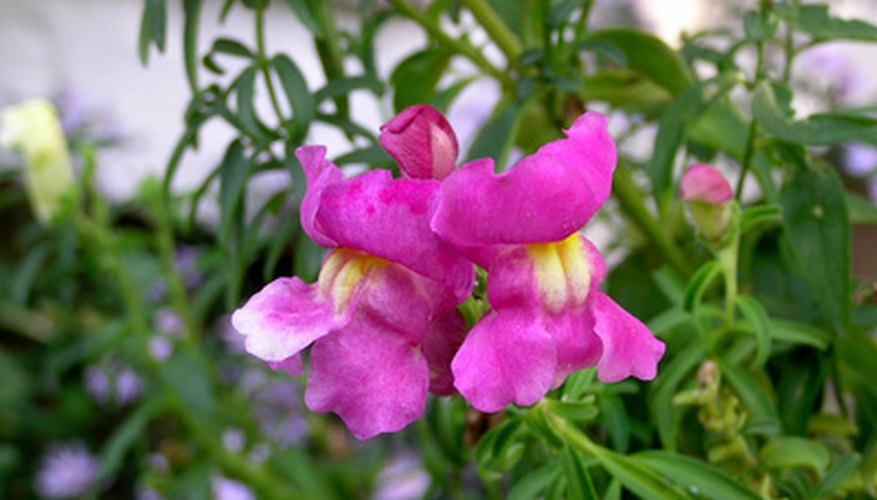 Finding flowers that will bloom from spring to fall is the easiest way to create a garden with maximum appeal. Only a few perennial plants--those that return year after year--bloom longer than a few weeks. Annual plants, however, must do all their blooming and seed production in a single growing season. Many annuals start flowering in the spring and keep going until frost. Long-blooming plants include traditional garden favorites and lesser-known varieties.
Snapdragon
Snapdragon (Antirrhinum majus) is a widely popular garden perennial hardy to 0 degrees Fahrenheit. Where winters are colder, it grows as an annual. Snapdragons love cool growing conditions, and will bloom from April until the first fall frost if they get them. Plants may die back, however, in hot summers. Growing from 1 to 3 feet tall, and 6 to 12 inches wide, snapdragons have branching stems with deep green, glossy, lance-like leaves. Their name comes from clusters of closed, tubular flowers resembling dragons.
Plants are available in a host of subtle and bright colors. They include solid and bicolored blooms in white, pink, yellow, orange, red and purple. Plants may suffer from rust, leaf spot, mildew, aphids and mold. Use snapdragon in containers, or as edgings or bedding plants, suggests the Missouri Botanical Garden. Give it full sun and consistently moist, fertile well-drained soil.
Calamint
Calamint (Calamintha arkansana) is a mint-family perennial native to bluffs, meadows and glades from Minnesota south to Arkansas and Texas. A creeping plant, calamint stands 6 inches to 1 foot high with an equal spread. Its oval green leaves, fragrant when bruised, form heavy ground-covering mats. Between May and October, according to the Missouri Botanical Garden, calamint has 8- to 12-inch stems of small, white or rose-purple blooms. Flowering is heaviest between May and July. Hardy to minus 30 degrees F, it has few disease or pest problems. Use it along border fronts, or in rock or native plant gardens. Plant it in full sun--for best results--to partial shade. It likes moist, well-drained soil.
Swan River Daisy
Flowering from May until frost, Swan River daisy (Brachyscome) is a 12- to 18-inch annual with an equal width. This mounding aster family plant has a compact habit with narrow, divided, greenish-gray leaves. Plants in the wild don't bloom as vigorously as hybrids. Swan River daisy cultivars have abundant flowers with petals ranging from white through blue, lavender, purple or yellow.
Some hybrids may be double-petaled. Flower centers range from yellow to nearly black. This plant performs best when summers are cool, according to the Missouri Botanical Garden. Give it full sun and fertile, well-drained, moist soil. Watch for snails and slugs. As flower numbers decrease, cut the plants back to encourage re-blooming.