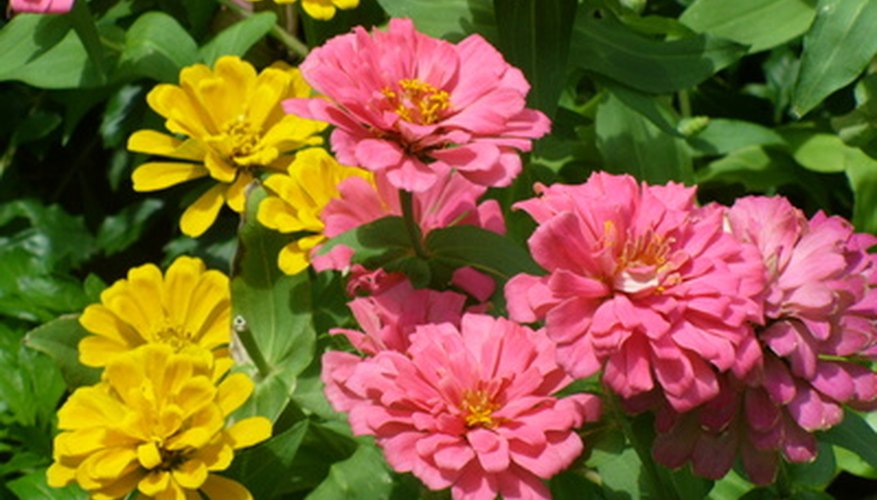 While many plants and flowers cannot withstand the soaring temperatures of summer, many plants thrive under the hot summer sun to produce a sea of color and texture in the garden. Oftentimes summer flowers are tolerant of both heat and drought to produce a hardy summer variety. Grown in a wide variety of shapes and sizes, some summer bloomers are perennial and come up year after year while others are short-lived biennials or annuals and grow for only a short period of time.
Shasta Daisy
Shasta daisy (Leucanthemum x superbum "Brightside") is a summer-blooming herbaceous perennial flower that blooms from late spring through summer. They reach a maximum height of 2 1/2 feet tall and a spread of 1 to 1 1/2 feet. Shasta daisies have white daisylike flowers with bright yellow centers and produce masses of flowers throughout the season. The lance-shaped, medium green foliage on Shasta daisies has a toothed edging and grows up to 12 inches long. Shasta daisies grow best in full sun but tolerate some light shade, especially during overly hot summer days. Shasta daisies require well-drained soil that is dry to medium but do not tolerate wet soil. To ensure a long flowering season, deadhead the spent flower blooms as soon as possible. Plant Shasta daisies in USDA zones 5 to 9.
Black-eyed Susan
Black-eyed Susan (Rudbeckia hirta) is a flowering biennial or short-lived perennial that is suitable in USDA zones 3 to 7. They grow in upright clumps that reach a maximum height and width of 3 feet. Black-eyed Susans have 3-inch-wide yellow, daisylike blooms that flower from summer into early fall. The deep to light yellow petals on black-eyed Susans surround the purple to brown centers that attract birds and butterflies to the garden. Black-eyed Susans have a vigorous growth rate that will have the garden in color in a short period of time. They require full sun to part shade and well-drained, heavy soils to thrive. They are suitable in USDA zones 3 to 7.
Zinnia
Zinnia (Zinnia elegans) is an annual flower that produces loads of colorful blooms all summer long. They grow up to 3 feet tall and have a spread of 1 to 3 feet. Zinnia grows in upright bushy clumps that help to fill a summer garden with color and texture. The tall erect stems of zinnia grow 30 inches tall to hold the blossoms that range from single to semi-double or double. Flower colors on zinnias are vast and include yellow, orange, red, purple and pink. They have a vigorous growth rate and are both deer- and drought-tolerant, producing a hardy flower variety. Zinnias require full sun and well-drained, fertile soil. To promote a long and plentiful flowering season, deadhead the spent blooms. Zinnia is hardy in all USDA zones.