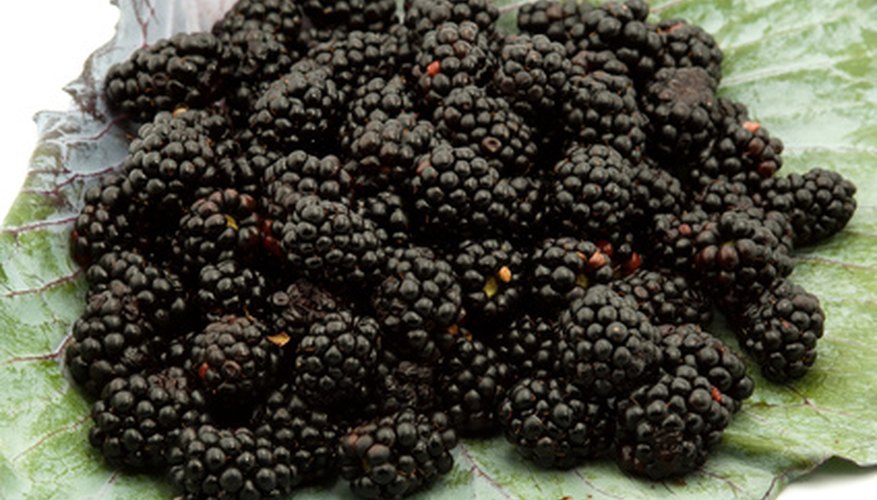 Growing blackberries from seed can be a meticulous task in the beginning, but it is well worth the effort. Not only are the plants pleasing in the landscape, the berries are flavorful, and full of vitamins and fiber. If you collect, handle and plant the seeds properly, you can expect to harvest berries through the early fall season. The berries will start out green, then they will turn rosy-red. They are mature and ready for picking when they turn black.
Take a ripe blackberry and hold it in your hand. Gently smear it across a piece of newspaper or paper towel. Pick out the seeds using your fingers or tweezers. If necessary, use a magnifying glass to make the seeds more visible. Place the seeds in a bowl.
Put on gloves and carefully pour 1 tbsp. of sulfuric acid in the bowl of seeds. This acid breaks down the seeds' woody outer-coating. Soak the seeds for 1 hour.
Pour 4 cups of water into the bowl to dilute the acid.
Go to a sink and pour the liquid through a strainer to collect the seeds. Rinse the seeds thoroughly under running water.
Mix 1 tsp. of baking soda into 1 cup of water. Pour the mixture over the seeds. If any acid remains on the seeds it will be neutralized.
Place one paper towel on top of another. Put your seeds in the center of the paper towels. Fold the towels around the seeds. Moisten the towels. You want the towels damp, not drippy.
Put the paper towel into a plastic bag and place it in your refrigerator for 12 weeks.
Take the plastic bag from the refrigerator and remove the paper towel from inside. Gently open it. You may find that some of your blackberry seeds have already started sprouting. This is not a problem.
Fill a large, wide planting pot with potting soil. Poke ¼ inch deep holes into the soil using a pencil. Space the holes 3 inches apart. Place a seed or sprout into each hole and cover them with soil. If you are planting a lot of seeds, you may need more than one pot.
Water the growing plants gently. Plan to water the soil every 2 to 3 days to keep it moist.
Place your pot where it can receive sunlight, such as in a windowsill or near a glass door.
Watch for growth to appear within 2 to 3 weeks.
Transplant the plants outdoors when they are 6 to 8 inches tall.