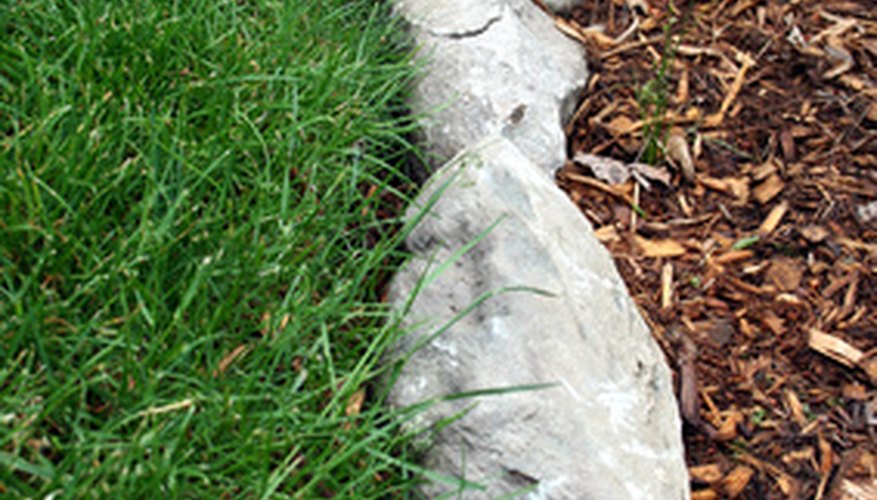 Weed Block is a brand of landscaping fabric used to prevent weeds from sprouting in an ornamental garden or landscape feature. The fabric is made of woven polyethylene fibers that allow air and water to pass through the fabric, so the roots of ornamental plants can be easily watered and disease and fungus will not take hold. Weed Block installs like other landscape fabrics.
Prune your ornamental shrubs and plants before installing landscaping fabric. By pruning away low-hanging branches, you will make it easier to install the fabric. Loosen and level the soil in the bed with a garden rake.
Measure the length and width of your landscape bed, and cut the fabric sheets to the proper size.
Measure the position of your ornamental plants in relation to the edges of your beds. Cut slits in the Weed Block so you can slip the fabric around the shrubs. Snip out circles in the fabric at the interior ends of the slits that are slightly larger than the trunks of the shrubs at the soil line.
Slip the Weed Block over the landscaped bed and around the ornamental plants. Anchor the fabric in place with plastic pins around the borders of the beds and anywhere that the fabric is loose.
Cover the landscaping fabric with a thick layer of pine bark mulch. Use 2 inches of mulch over tree roots and 4 inches of mulch over beds with no tree roots.
Things You Will Need
Pruning shears

Garden rake

Weed Block landscaping fabric

Plastic landscaping fabric pins

Measuring tape

Scissors

Pine bark mulch
Tip
If you plan to use drip irrigation in your landscaping, install the irrigation hoses before putting the landscape fabric over the beds.